Paleo Sweet Potato Pancakes
7
Sweet potatoes are nutrient-packed little powerhouses that are versatile enough to eat with any meal. This pancake recipe is made with mashed sweet potatoes, egg, almond butter, and coconut milk. The mashed sweet potato adds heartiness to the pancakes, and keeps them from drying out. Go ahead and have these pancakes as often as you want, and they will still be healthy for you!
Sweet potato pancakes are a bit different than other Paleo pancakes, which normally use some sort of flour. You will need to monitor the heat of your pan a little more closely because they are more likely to get burnt. They take a little longer to cook all the way through, but I really like the fact that no expensive almond or coconut flour is necessary to make these. Plus, they are a perfect way to use up leftover sweet potato from the night before. I have even baked up a couple extra sweet potatoes when I am making a recipe with them, because I know that they are easy to incorporate for some other meal later in the week.
If you don't have leftover sweet potato and are starting with a raw one, all you have to do is peel and chop up the potato and then boil it on the stove so that you can mash it. Then everything goes together in a blender to make the dough really ridiculously easy.
Maple syrup is a great choice for topping the pancakes, or a drizzle of honey. You will only need a little bit, because the pancakes are already sweet and moist all on their own. I also think adding chocolate chips would be delicious with these pancakes.
Few foods have as many vitamins and nutrients as sweet potatoes. They are packed with calcium, potassium, fiber, and vitamins A and C. So don't hesitate to try out these sweet potato pancakes next time you're looking for an idea for breakfast.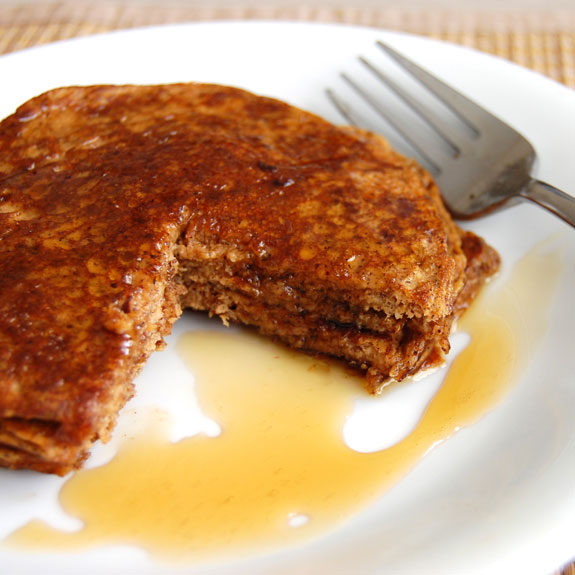 Paleo Sweet Potato Pancakes
2014-06-12 07:08:30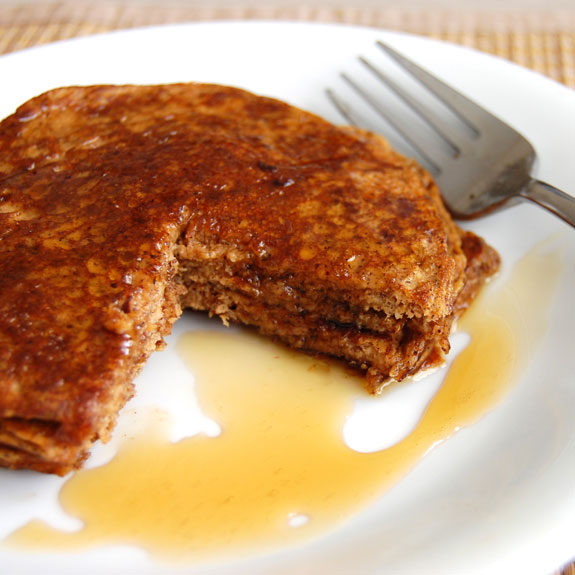 Ingredients
2 eggs
1 1/2 cups mashed sweet potato (about 1 large potato)
1/4 cup almond butter
1/2 cup coconut milk
1 tsp baking soda
1 tsp baking powder
2 tsp cinnamon
1/4 tsp nutmeg
1/2 tsp salt
Coconut oil, for frying
Instructions
Add all of the ingredients to a blender or food processor and blend thoroughly.
Test the batter to see if it will run off a spoon. If it's too thick, add more coconut milk until it is the right consistency.
Heat a griddle or non-stick skillet to medium heat. Coat pan with coconut oil. Pour 1/4 cup of batter onto the pan. Cook 4-5 minutes until the top starts to bubble and the bottom is cooked through, and then flip. Cook for another 3-4 minutes until lightly browned. Repeat with remaining batter. Serve warm.
Notes
Servings: 10 medium pancakes
Difficulty: Easy
Paleo Grubs http://paleogrubs.com/
Want more Paleo recipes? Take a look at the Paleo Grubs Book. With 470+ easy-to-prepare Paleo recipes in 17 comprehensive categories it is the only Paleo book you will ever need.
+ Make sure to sign up for our free newsletter to get our latest healthy recipes delivered weekly (it's free).