Stovetop Sweet Potato, Kale and Turkey Chili
9
Cozy up to a bowl of this steaming chili, a hearty and healthy option for your everyday meals. Typically, chili takes a lot of time to simmer, but this recipe can be made on the stovetop in about an hour and it still develops great flavor. Sweet potato, kale, and turkey create this quick and easy meal.
Turkey adds protein to the dish, but it is not the main ingredient as with traditional chili. Instead, sweet potatoes make up the bulk of the soup, and kale is added at the end for added nutritional value. I have also been toying with the idea of adding chopped Portobello mushrooms as a hearty meat substitute to make this recipe completely vegetarian, so that is another option.
As per the rules of the Paleo diet, there are no beans in this chili (and I know to some people, it can't be chili without beans) but you won't even miss them in the end result. Sweet potatoes provide the starchy goodness in place of the beans, while at the same time providing fiber and antioxidants.
This recipe for sweet potato chili doesn't require as much cooking time as some other versions. After simmering for awhile on the stove, the chili turns out quite hearty and thick, as you may be able to tell from the photos. If you want it to be more like soup, you can simply add more chicken broth while it's cooking.
A medley of spices adds a lot of flavor to this warm, comforting dish. The amount of spices goes well with the sweet potatoes to make a milder chili, but the heat can be increased if you wish. My favorite feature of this recipe, besides the depth of flavor and how good it is for you, is that I can make it on Monday and have lunch and dinner ready to go for the next several days. It's the dish that can be enjoyed again and again.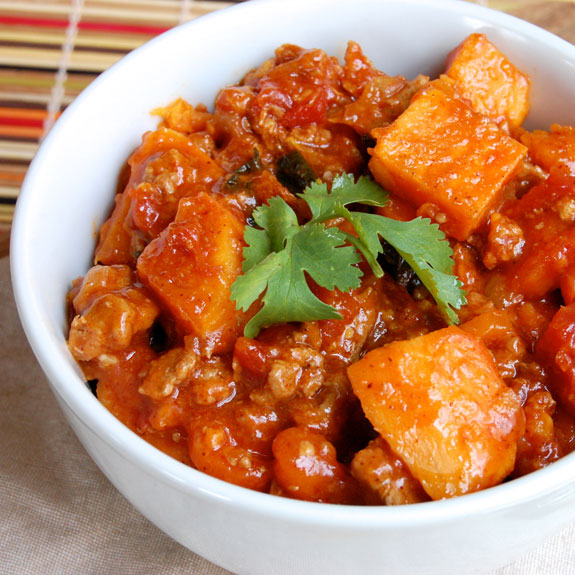 Stovetop Sweet Potato, Kale and Turkey Chili
2014-06-05 16:43:29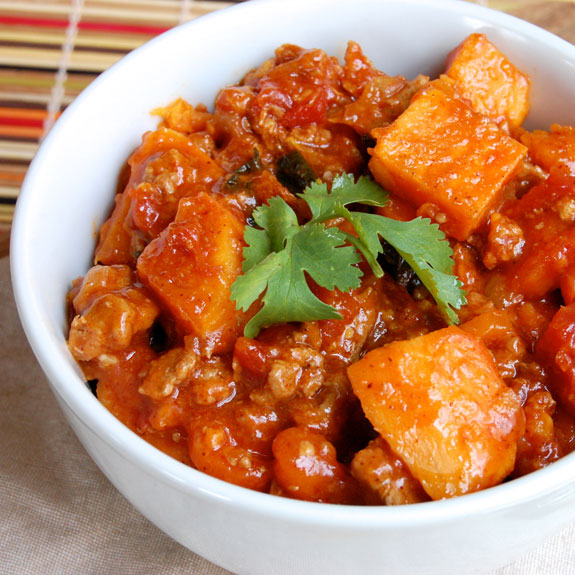 Ingredients
1 lb. ground turkey
1/2 tsp salt, plus more to taste
1/2 cup onion, chopped
3 carrots, peeled and chopped
3 cloves garlic, minced
2 medium sweet potatoes, peeled and cubed
1 14.5-oz. can diced tomatoes
3/4 cup chicken broth
1/2 tsp cumin
1/2 tsp chili powder
1/4 tsp smoked paprika
1 cup chopped kale
Fresh cilantro, for garnish
Instructions
In a large skillet, cook the turkey over medium-high heat until browned, breaking up into small pieces with a spatula. Season with salt. Add the onion, carrots, and garlic to the pan and cook for 2-3 minutes, stirring often.
Add the sweet potatoes, tomatoes, broth, cumin, chili powder, and paprika to the pan and stir. Bring to a simmer and cover. Cook for 30-40 minutes until the potatoes are soft, stirring occasionally. Adjust salt to taste. Stir in the kale and cooked until wilted. Serve warm, garnished with fresh cilantro.
Notes
Servings: 4-5
Difficulty: Medium
Paleo Grubs http://paleogrubs.com/
Want more Paleo recipes? Take a look at the Paleo Grubs Book. With 470+ easy-to-prepare Paleo recipes in 17 comprehensive categories it is the only Paleo book you will ever need.
+ Make sure to sign up for our free newsletter to get our latest healthy recipes delivered weekly (it's free).