Paleo Stuffed Yellow Squash
1
Stuffed squash is a light meal that is easy to put together and elegant enough to be a main course without demanding too much time. It can also be served as a side dish to larger entrees. Bright yellow squash is stuffed with flavorful beef and topped with parsley for a colorful and tasty meal.
Stuffed squash is a recipe that I keep turning back to again and again for weeknight meals, when it's just the two of us at dinner. We've done stuffed peppers before but this recipe is even simpler. Once the squash is sliced and seeded, the onions and beef are browned on the stove. Seasonings and tomatoes are added to the beef for extra flavor, and then the beef is spooned into the squash. Everything is baked together in the oven, and 30 minutes later dinner is served. As a small confession I sometimes also shred cheese on top of the squash for the last 10 minutes of baking, just in case anyone out there has the same guilty pleasure as me.
Another feature I enjoy about this recipe is that it does not weigh me down. Unlike heavy casseroles or stuffed pasta shells, this light stuffed squash leaves me feeling pleasantly full but not over-stuffed. Which means that I might still be able to have a productive evening because I do not feel like falling asleep after dinner. This is a huge bonus for freelancers especially, because sometimes we are at our most productive from 7-10pm. No idea why, but there's the fact.
Zucchini could also operate as the 'boats' for the meat. Whatever vegetable you decide to use, you can recycle the seeds that are scooped out (to make room for the meat) by sautéing them along with the meat if desired. This means you'll have extra of the meat mixture, which is great as leftovers – or it's great for eating while you wait for the squash to bake. Sometimes when 6pm rolls around you just can't wait.
Yellow squash topped with tomato beef stuffing and fresh parsley makes a tasty and eye-catching dinner. And we eat first with our eyes. So if you are trying to eat healthier food, try making this colorful stuffed squash and you'll have no problem. You'll want to eat this right up as soon as it's out of the oven.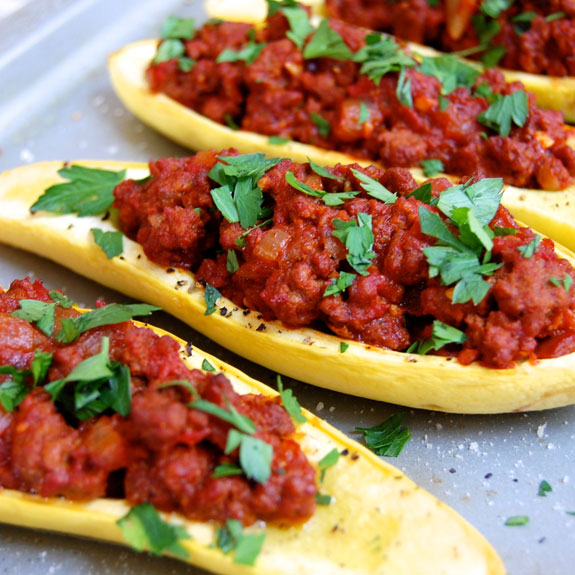 Paleo Stuffed Yellow Squash
2014-03-16 13:24:34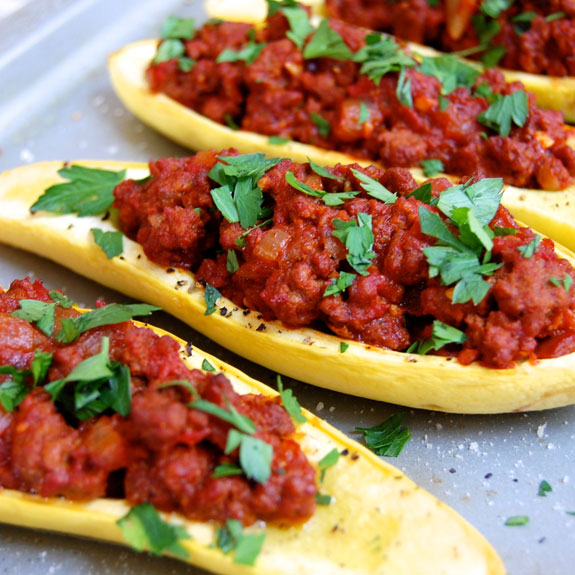 Ingredients
2 medium yellow squash
1 lb. ground beef
4 Roma tomatoes, diced
1 tsp coconut oil
1/2 large yellow onion, diced
3 cloves garlic, minced
1/2 tsp smoked paprika
1/2 tsp cumin
1/2 tsp ground coriander
1 tbsp tomato paste
1 tsp salt
1/2 tsp pepper
2 tbsp fresh parsley, chopped
Extra virgin olive oil, for drizzling
Instructions
Preheat the oven to 375 degrees F. Cut the squash in half lengthwise and use a spoon to scrape out the seeds. Place on a rimmed baking sheet with the cut-side up. Set aside.
Melt the coconut oil in a large skillet over medium heat. Add the onion to the pan and sauté for 3-4 minutes. Stir in the garlic and cook for an additional minute. Add the beef to the pan and cook until no longer pink, stirring regularly.
Add the diced tomatoes, along with the paprika, cumin, coriander, tomato paste, salt, and pepper. Stir well to combine.
Spoon the beef mixture into the squash boats and lightly drizzle with olive oil. Bake for 25-30 minutes until the squash is tender. Serve warm, sprinkled with fresh parsley.
Notes
Servings: 2
Difficulty: Medium
Paleo Grubs http://paleogrubs.com/
Want more Paleo recipes? Take a look at the Paleo Grubs Book. With 470+ easy-to-prepare Paleo recipes in 17 comprehensive categories it is the only Paleo book you will ever need.
+ Make sure to sign up for our free newsletter to get our latest healthy recipes delivered weekly (it's free).