Leek and Bacon Stuffed Mushrooms
0
Stuffed mushrooms can make a tasty appetizer or a side dish, depending on which direction you want to go. My version uses leeks and bacon to boost the flavor of the mushrooms and will definitely grab the attention of your taste buds.
What do you do when you have a bunch of mushrooms on your hands? Why, stuff them, of course!
Mushrooms don't have to be a side character in all of your cooking. Why not give them a starring role and see just how well they can shine? With all of the nutrients they pack, it just makes sense to feature them prominently in their own dish.
But to be fair, this recipe came about mostly because I found organic mushrooms on sale and needed a way to use a bunch of them all at once. Adding a few into a soup or on a salad just wasn't going to cut it.
Of course there are some of us that don't like mushrooms enough to want them as the main attraction in a dish. You pretty much know if you're a mushroom fan if you like them on your pizza. This one time, when trying to decide on pizza toppings my cousin said "mushrooms taint" when I offered up mushrooms as a possibility. He wouldn't want to have these. Well, he does love bacon so maybe that would balance it out.
Anyway, know your audience and make sure that they're mushroom fans and everything will be fine.
If you're not used to using leeks, it's time to become more familiar with them. I can say this because I used to disregard leeks as "that weird vegetable in the produce section that I don't know how to cook". But they're not *that* hard to figure out, and it pays flavor dividends the first time you use them.
Plus once you do use them and see how easy they are to prepare and how tasty they are even all by themselves, you'll find all sorts of new ways to add them to your meals.
One ingredient that's sure to please is bacon, which goes great with the mushrooms and leeks. In addition to the savory flavor it provides, it's also a texture shaker-upper. You've got the soft texture of the baked mushroom, the softness of the finely chopped leeks, and then the crunchy bits of bacon make you stop and go "hmm, that's interesting".
One thing I love about this recipe is how easy it is and how great it tastes. It dispels the notions that delicious food has to be hard to prepare, and that a fancy presentation is only for the master chefs out there.
And if you make them for friends or as an appetizer, you will get positive feedback on how good they look. There's something about them that makes people say wow.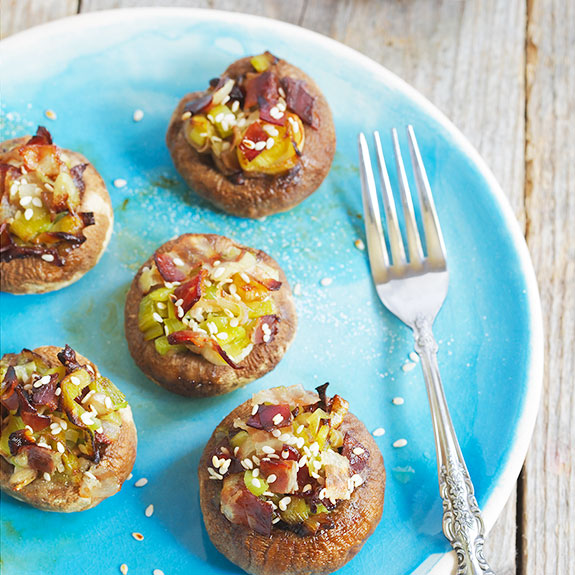 Leek and Bacon Stuffed Mushrooms
2015-08-07 09:48:16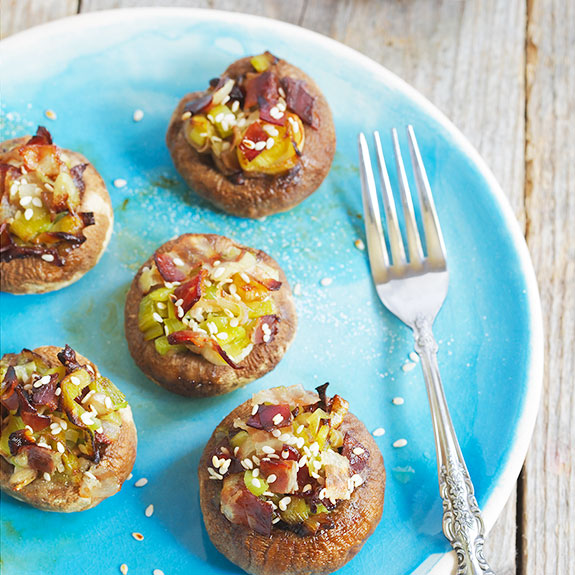 Serves 2
Ingredients
1 pound fresh button mushrooms, stems removed
1/2 cup finely chopped leek
3 oz bacon, chopped
olive oil for drizzling
salt and black pepper to taste
Instructions
Preheat the oven to 400 ºF.
In a large skillet, cook the leeks and bacon over medium heat until leeks soften and bacon is crisp. Remove the mixture from the skillet, season with salt and pepper and set aside.
Fill the mushroom caps with the mixture, place on a lightly oiled baking dish and sprinkle with sesame seeds. Drizzle with olive oil and bake until the mushrooms are tender, 25 to 35 minutes. Remove from the oven and serve.
Paleo Grubs http://paleogrubs.com/
Want more Paleo recipes? Take a look at the Paleo Grubs Book. With 470+ easy-to-prepare Paleo recipes in 17 comprehensive categories it is the only Paleo book you will ever need.
+ Make sure to sign up for our free newsletter to get our latest healthy recipes delivered weekly (it's free).