Vegetarian Thai Red Curry with Squash
11
Hearty, spicy vegetarian meals have been slowly taking over our kitchen as winter maintains its grasp on the weather. I have been finding a lot of inspiration in Thai and Indian cuisine, with their bold flavors and wide array of vegetable-based meals. Acorn squash, when simmered in coconut milk, takes on the deliciously spicy notes of the curry in this warming dish.
Curry is a lot less complicated than I predicted, since using prepared red curry paste is a quick and easy way to add a lot of flavor to a meal. The spiciness of this dish is easy to adjust when you make the curry in your own kitchen. It is as simple as adding more or less curry paste to the pan. When eating out, though, I have noticed that different restaurants of the same type of cuisine all seem to have unique rating scales for spiciness. For example, choose a number between one and five. But then you go across town (or just down the block) and the scale is between one and twenty. This makes consistency difficult – especially if you are like me and like it a little spicy, but not too spicy. The spiciness level when I cook curry at home is always spot on.
I prefer to make curry with squash because the squash really soaks up the flavors. Acorn squash is sweet and nutty on its own, but you could also use kabocha or butternut squash, though the cooking times may differ for those varieties. To choose a good acorn squash at the store, pick one that is dark green and without any soft spots. The dark green skin of the squash can be left on in the recipe if you prefer, as it is also edible.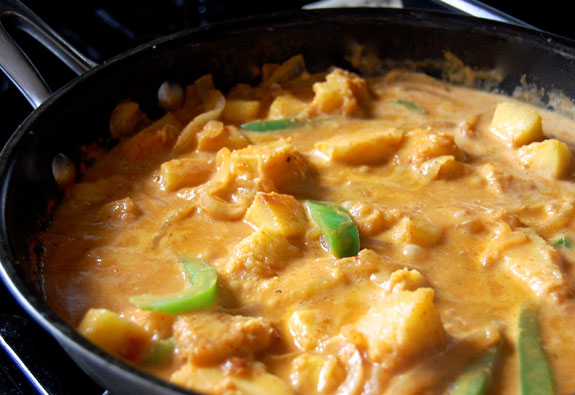 Coconut milk adds a little sweetness to the curry, complementing the spice. As the curry simmers for twenty minutes or so, it becomes thicker and creamier. The lime juice added at the end of the recipe helps to cool down the intensity of the red curry paste as well. Spoon the mixture over cauliflower rice for a nourishing and filling meal.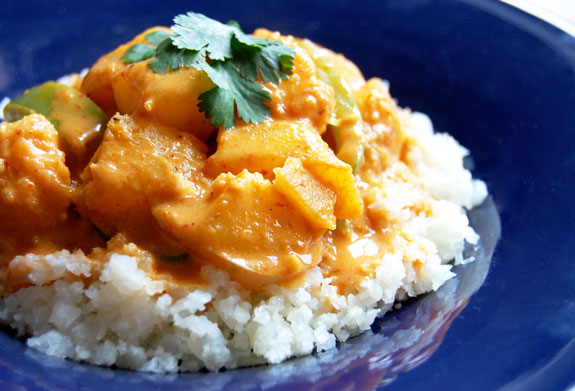 Vegetarian Thai Red Curry with Squash
2014-03-16 13:12:52
Ingredients
1 tbsp coconut oil
1 medium yellow onion, diced
1 tsp salt
1 green bell pepper, thinly sliced
4 cloves garlic, minced
1-inch piece fresh ginger, peeled and minced
3 tbsp Thai red curry paste
1 14-oz. can coconut milk
1 tbsp coconut aminos
1 large acorn squash, peeled, seeded, and cut into 1-inch cubes
2 tsp lime juice
1/4 cup cilantro, chopped
Cauliflower rice, for serving
Instructions
Melt the coconut oil in a large pan over medium heat. Add the onion and cook for 5-6 minutes, stirring occasionally. Add the bell pepper, garlic, ginger, and salt and stir to combine. Cook for an additional minute.
Add the curry paste to the pan and cook for about a minute, stirring to coat the other ingredients. Add in the coconut milk and coconut aminos and bring to a simmer. Stir in the squash. Simmer, stirring occasionally, for 15-20 minutes until the squash is fork-tender. Remove the pan from the heat and stir in the lime juice. Taste and adjust salt and lime juice as necessary. Sprinkle with cilantro to serve.
Notes
Servings: 4
Difficulty: Medium
Paleo Grubs http://paleogrubs.com/
Want more Paleo recipes? Take a look at the Paleo Grubs Book. With 470+ easy-to-prepare Paleo recipes in 17 comprehensive categories it is the only Paleo book you will ever need.
+ Make sure to sign up for our free newsletter to get our latest healthy recipes delivered weekly (it's free).