The Best Homemade Ranch Dressing Ever
85
Dairy-free ranch dressing. It seems like an oxymoron, but I assure you, it is a real thing! Where there is a will, there is a way. I was determined to find a way to get some healthy ranch dressing back into my life. And this way is surprisingly simple. The recipe starts with a Paleo mayonnaise base, and then you add ingredients from there. It can be made as creamy or as thin as you like, depending on whether you want to use it for a dip or for dressing. One thing that I know is that I am never buying the store-bought kind again.
I have yet to find anything that tastes like the unique flavor of ranch dressing. When you crave it, you crave it. There isn't anything else that can fill that gap. Olive oil and balsamic can only get you so far with a salad. It was one of the first things that I ate in the U.S. after returning home from study abroad. Veggies or even strips of leftover steak are much more appealing when there is some ranch around to dip them in.
Dips and dressings can actually get people – myself included – to eat more vegetables. Eating plain carrots is not all that appealing, but if you put pour some ranch dressing on top – voila! They will be gone in a flash. We used to nickname my roommate the "rabbit" of the house because she could eat half a bag of carrots in a sitting, but she always had some ranch with it. This Paleo version of ranch dressing also avoids the usual concerns about regular ranch that you buy in the store, which can be harming to your health and digestion. You don't need buttermilk and sour cream to enjoy ranch! This can be using as a dressing for a salad, a dip for vegetables, or even to top your pizza with (you know who you are).
Spending 15 minutes on a batch of homemade mayo and dressing can yield you enough for at least a week. For the cost of mainly an egg and olive oil. The fun part is that you can experiment with adding other seasonings or condiments to alter the dressing to your own tastes. Try adding some mustard or chili powder! Here I have prepared a recipe for the basic, classic ranch dressing. Enjoy!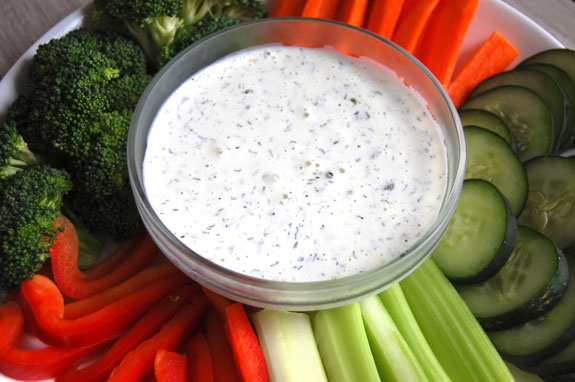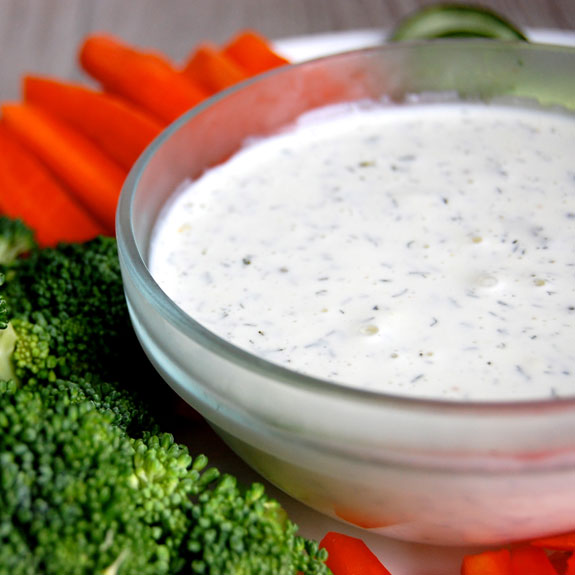 The Best Homemade Ranch Dressing Ever
2013-11-19 16:24:18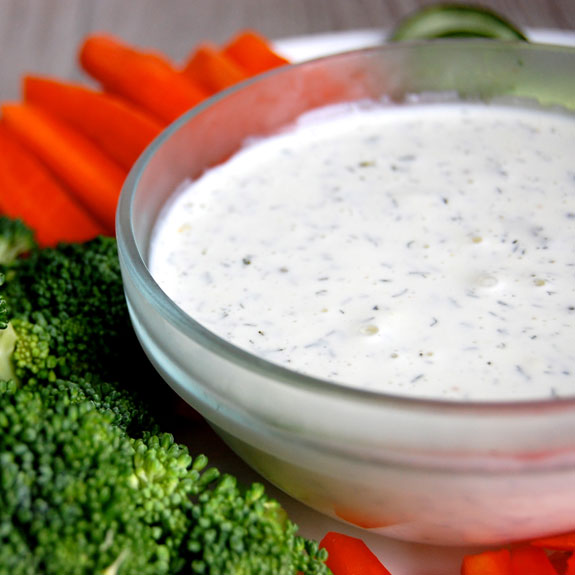 Ingredients
1/2 cup Paleo mayo (see below)
1/2 cup coconut milk
1/2 tsp onion powder
1 tsp garlic powder
1 tsp dill
Salt and freshly ground pepper, to taste
Instructions
Whisk all ingredients together to combine. Season with salt and pepper to taste. Store in an airtight container in the refrigerator for up to a week.
Mayo recipe
1 egg, room temperature
2 tbsp lemon juice or apple cider vinegar
1/2 tsp salt
1/2 tsp dry mustard
1 cup light olive oil*
In a tall glass (if using an immersion blender) or a blender, place the egg and lemon juice. Let come to room temperature, about one hour. Add the salt and mustard. Blend ingredients. While blending, very slowly pour in the olive oil. Blend until it reaches desired consistency. Store in the refrigerator for up to a week.
*It's important to use a light olive oil, not full flavor, for mayonnaise. You could also use almond or walnut oil instead.
Paleo Grubs http://paleogrubs.com/
Want more Paleo recipes? Take a look at the Paleo Grubs Book. With 470+ easy-to-prepare Paleo recipes in 17 comprehensive categories it is the only Paleo book you will ever need.
+ Make sure to sign up for our free newsletter to get our latest healthy recipes delivered weekly (it's free).