Healthy Pumpkin Pancakes (Gluten-Free)
48
For me, there is no such thing as too much pumpkin. The days have gotten shorter and a little pumpkin is the perfect comforting flavor that I crave. The weekends are my favorite time for making pancakes, when you get a slow start to the day and can take your time with making breakfast. It's sort of a Saturday morning ritual of mine to make a big breakfast, and these pumpkin pancakes will definitely be reappearing soon. I've made a few Paleo pancake recipes, and this one is by far my favorite. They turn out moist, fluffy and delicious.
This recipe makes a small batch, because I am usually cooking for two, but can easily be doubled. They go wonderfully with a side of breakfast sausage or topped with banana and maple syrup. The fact is though, these pumpkin pancakes are so tasty and sweet on their own that they don't need very much added to them.
To start the pancakes, prepare the wet and dry ingredients in separate bowls, and then combine. As I have found with most Paleo pancakes, they turn out better if you make them small. Since they have low flour content, they can sometimes be hard to flip. But if the pancakes are small you are much more likely to be successful.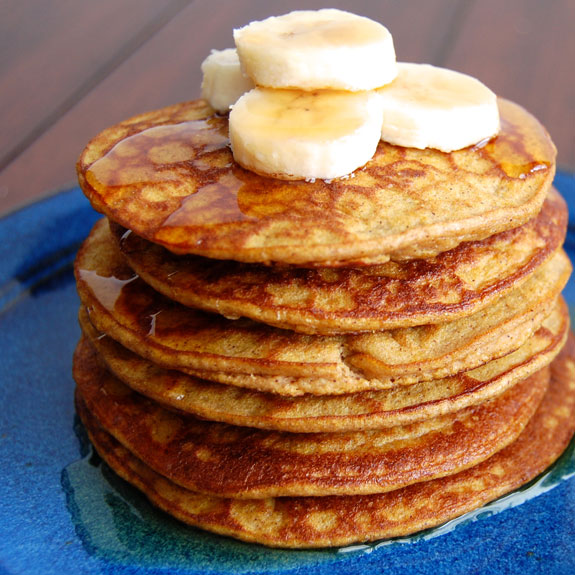 Pumpkin pancakes are a delicious seasonal twist on a classic. This recipe, using mainly coconut flour and pumpkin puree, delivers light, fluffy pancakes that are perfect for your next leisurely Saturday morning.
Healthy Pumpkin Pancakes (Gluten-Free)
2013-11-19 16:08:17
Ingredients
1/4 cup pumpkin puree
3 tbsp almond milk
1 tbsp honey
3 eggs
1 tbsp coconut oil, melted, plus additional for pan
1 tsp vanilla
1/4 cup coconut flour
1 tsp cinnamon
Pinch of nutmeg
1/2 tsp salt
1/4 tsp baking soda
Instructions
In a large bowl, whisk together the dry ingredients – the coconut flour, cinnamon, nutmeg, salt, and baking soda. Then in a separate bowl, whisk together the wet ingredients – the pumpkin puree, almond milk, honey, eggs, oil, and vanilla. Add the dry ingredients to the wet ingredients. Stir together until just combined.
Heat a griddle or non-stick skillet to medium heat. Coat pan with coconut oil. Pour about 1/4 cup of batter onto the skillet. Cook for 2-4 minutes until the bottom is cooked through, and then flip. Cook for another 2-4 minutes until lightly browned. Repeat with remaining batter. Serve warm and enjoy!
Notes
Servings: 7 small pancakes
Difficulty: Medium
Paleo Grubs http://paleogrubs.com/
Want more Paleo recipes? Take a look at the Paleo Grubs Book. With 470+ easy-to-prepare Paleo recipes in 17 comprehensive categories it is the only Paleo book you will ever need.
+ Make sure to sign up for our free newsletter to get our latest healthy recipes delivered weekly (it's free).