Easy Paleo Slow Cooker Pot Roast
0
I have been cooking simple comfort food a lot over the past few weeks, since the heat in our apartment is broken and it seems to be colder than ever outside. And sometimes I get so preoccupied with coming up with exciting new Paleo recipes that no one has tried or conceived before, that I forget about the basics. Something as simple as well-seasoned pot roast can be quite delicious and satisfying for dinner, especially during this time of year.
My slow cooker is getting more and more use as my days get busier and I don't have time to cook dinner late at night. Placing the roast in a slow cooker allows the meat to get juicy and tender. I would highly recommend searing the roast first in order to develop more flavors in the broth. Some slow cookers have that option built in, but if you're slow cooker is old like mine you can just use a separate pan. Throw in some veggies and broth with the roast and check back later, and your meal is ready and waiting.
I developed a sort of spice rub to add a little variety to the classic pot roast recipe. When I was younger, my parents could not get me to eat roast for all the money in the world. I would sit at the table for a good hour after everyone else had finished and left, staring at my plate, refusing to eat. I was obviously a stubborn child. But how the tables have turned. Here I am developing spice rubs for pot roast.
In addition to searing the meat to get a greater depth of flavor, I recommend reducing the leftover juices from the slow cooker to make a thick sauce. Simply simmer the juices in a pan on the stove for 15 minutes or so after the roast is done. Then all that is left to do is to enjoy this simple recipe that is still completely satisfying and delicious.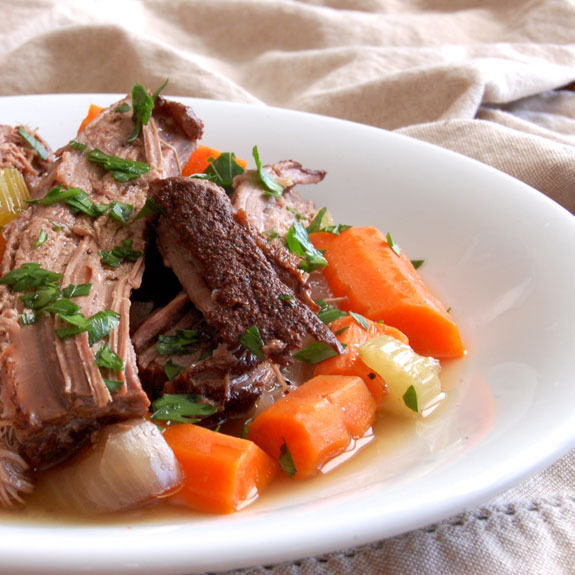 Easy Slow Cooker Pot Roast
2014-02-11 11:50:40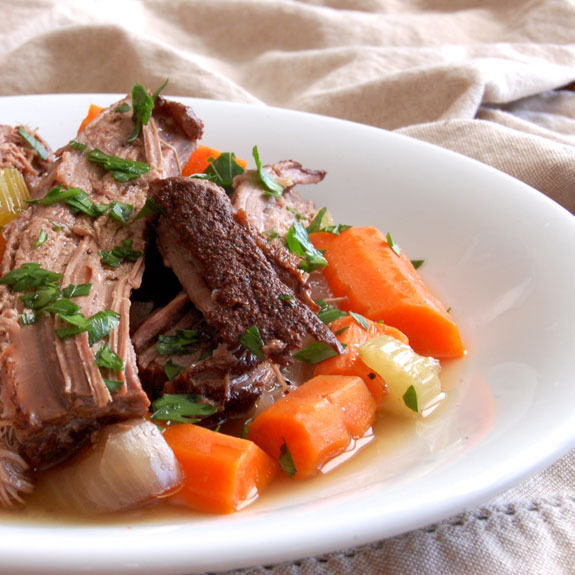 Ingredients
3 lbs. boneless beef roast, trimmed of fat
1 tbsp coconut oil
1 cup beef stock
5 carrots, peeled and diced
2 stalks celery, diced
1/2 large onion, sliced
3 garlic cloves, chopped
1 tbsp fresh parsley, chopped
For the spice rub
1 tbsp freshly ground black pepper
1 tbsp ground coriander
2 tsp cinnamon
1 1/2 tsp salt
1/2 tsp ground clove
1/2 tsp ground allspice
Instructions
Mix together the ingredients for the spice rub and massage into the roast. Heat the coconut oil in a large skillet over medium-high heat. Add the roast to the pan and let sear for 5 minutes. Flip and repeat with the other side. Transfer the roast to the slow cooker.
Add the carrots, onion, garlic, and celery to the slow cooker. Pour in the broth. Turn the heat on to low and cook for 6-7 hours, until the meat is tender. Serve hot sprinkled with chopped parsley.
Notes
Servings: 6
Difficulty: Easy
Paleo Grubs http://paleogrubs.com/
Want more Paleo recipes? Take a look at the Paleo Grubs Book. With 470+ easy-to-prepare Paleo recipes in 17 comprehensive categories it is the only Paleo book you will ever need.
+ Make sure to sign up for our free newsletter to get our latest healthy recipes delivered weekly (it's free).