Paleo Pineapple Upside Down Cake
17
There's just something fun about an upside down cake. It's fun to say, it's fun to eat, and it's fun to make. And shouldn't Paleo be fun?
The key to a good cake is choosing the right flour for the job. In this case I've gone with almond flour. It has the density we're looking for and does a good job of surviving the flop and coming out unscathed. It also provides fiber, and I'm always looking for ways to increase my fiber intake for better health.
Unlike most cakes, an upside down cake requires a little forethought. You have to think of this cake like the ship in Poseidon. Eventually it's going to end up upside down, so what you put on bottom is going to be the top by the time it's all said and done.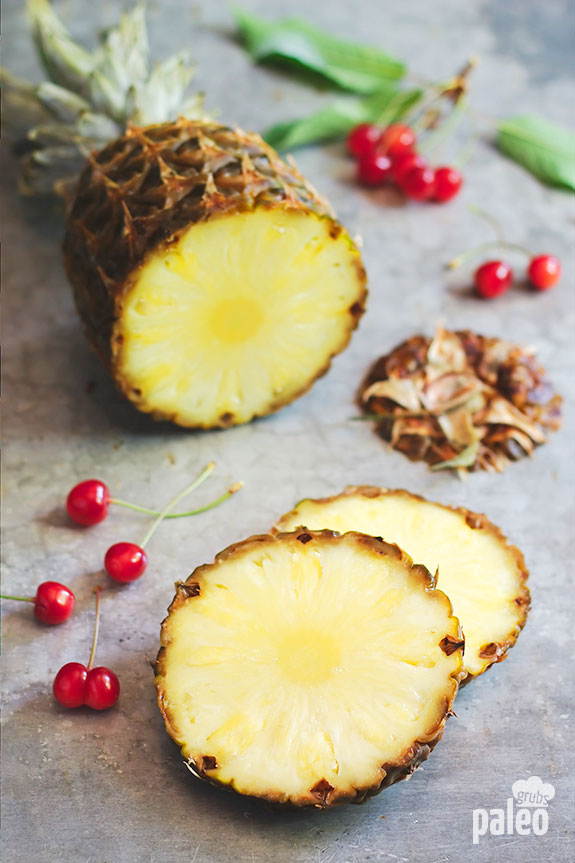 That's why we start by putting the pineapple and cherries at the bottom of the pan. When we flip it over they'll be the first thing that the fork cuts through. After taking out the core of the pineapple be sure that you cut it up so you have some nice pieces to work with to make it look good.
To get the presentation just right on this one make sure to arrange the pineapple and cherries so they make a nice design. You'll be able to see the pattern of the pineapple once it gets flipped over, so taking some extra care beforehand is a good idea. The cherries add a nice color contrast and go well with the yellow pineapple, as well as adding their signature flavor.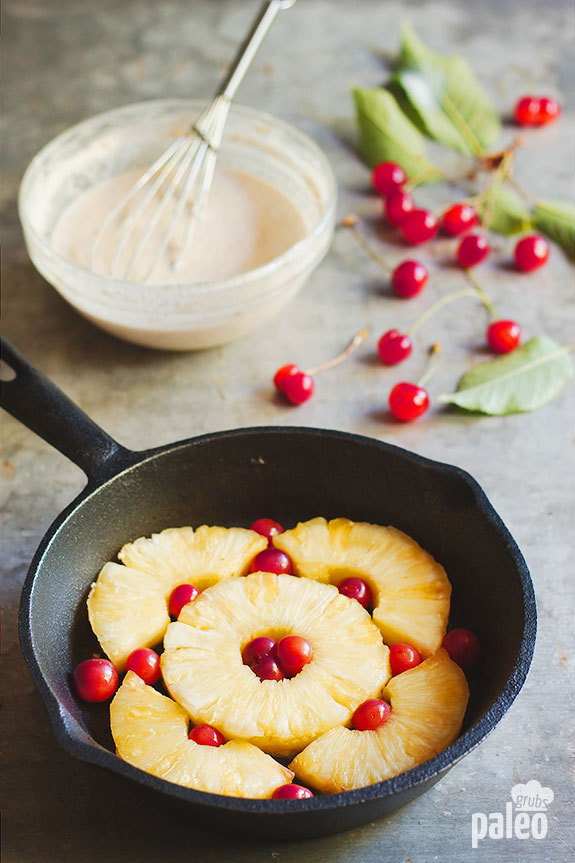 After the pineapple and cherries get a chance to know each other in the oven, you take it out and pour in the batter made from the almond flour and return it all to the oven.
Getting the sweetness right can take some time but I've found that raw honey is the best way to go. Not only does it provide you with the sweet taste expected from a cake, it does so in a natural way so you don't have to worry that you're harming yourself with refined sugar or an artificial sweetener.
Perhaps the most fun moment of this recipe is when you turn over the cake pan and have your cake plop out onto the plate. It can also be the most stressful, since all of your work up till this point can be spoiled if it doesn't come out right. Keep your cool and know that it will turn out just fine.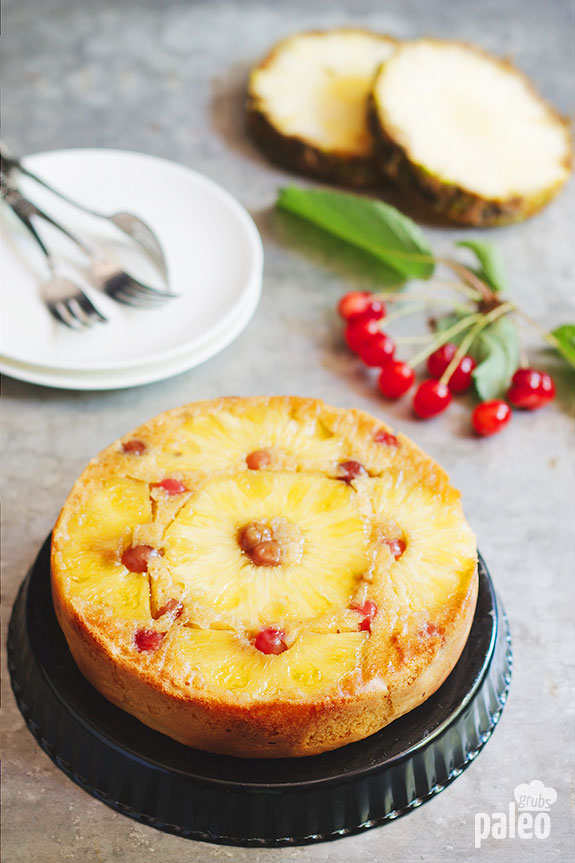 I like to bake this up whenever I have company coming over. It goes well with a nice cup of tea. It also stores well, so you can make the full cake even if you're going solo and just store the rest for days afterward.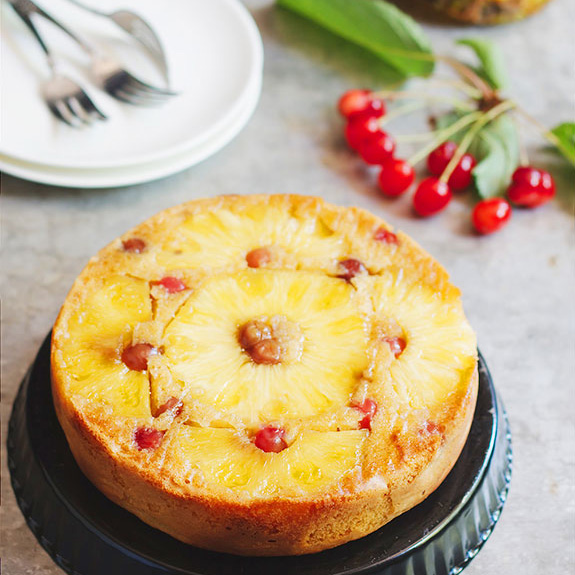 Paleo Pineapple Upside Down Cake
2015-06-12 08:08:35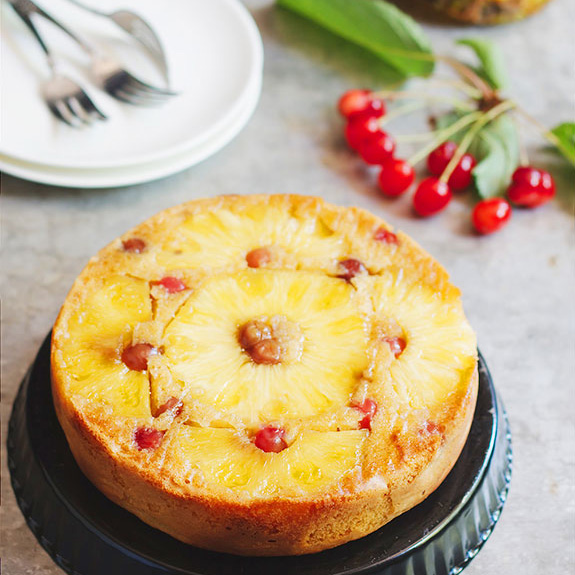 Serves 6
Ingredients
1 cup almond flour
2 eggs
½ tsp baking powder
5 tbsp raw honey
3 tbsp liquid coconut oil
1 tsp pure vanilla extract
2 slices of fresh pineapple, each ½ inch thick
15 fresh or frozen sweet cherries
Instructions
Preheat oven to 350 F. Peel and core the pineapple slices. Place 1 ½ tbsp of raw honey in an 8'' cast iron skillet or round cake tin. Arrange the pineapple rings and sweet cherries on the honey in a decorative pattern. Place the skillet in the oven and cook for 15 minutes.
Mix almond flour with baking powder. In a medium bowl cream the eggs with remaining honey. Add the coconut oil and mix to combine. Add the almond mixture and mix well to combine. Remove the skillet from the oven and pour batter over the top of the pineapple rings and smooth it out. Return in the oven and bake for 35 minutes.
Remove from the oven and leave to stand for 10 minutes, then turn out onto a plate. Serve with more fresh sweet cherries.
Paleo Grubs http://paleogrubs.com/
Want more Paleo recipes? Take a look at the Paleo Grubs Book. With 470+ easy-to-prepare Paleo recipes in 17 comprehensive categories it is the only Paleo book you will ever need.
+ Make sure to sign up for our free newsletter to get our latest healthy recipes delivered weekly (it's free).