Paleo Pizza Crust & Breakfast Pizza
7
When I told some of my friends about doing the Paleo diet, one question that I got a lot was, "But, you're not even going to eat pizza?" Of course I am not giving up pizza. No one needs to give up pizza night and that delicious combination of flavors. You can still enjoy pizza, and without all those extra carbs too.
Making this pizza crust is a breeze. In fact, it's even easier than making regular, non-Paleo pizza dough. The coconut flour adds a hint of sweetness, which goes nicely with any tomato sauce that you might want to top it with. When you mix the ingredients together it forms more of a batter than a dough, so there won't be any dough tossing with this recipe. The crust comes together when you bake it for about 20 minutes, at which point you flip it over so that it cooks evenly, and then place the toppings on it.
The coconut flour crust also goes well with breakfast pizza, which is what I made this time. I'm definitely going through a breakfast for dinner phase. The runny yolks and bacon make a delicious combination that I will definitely be using again.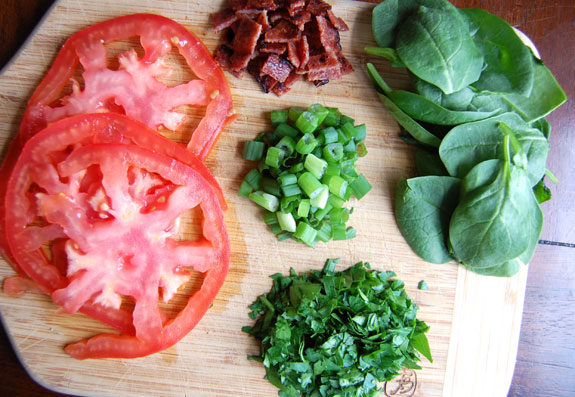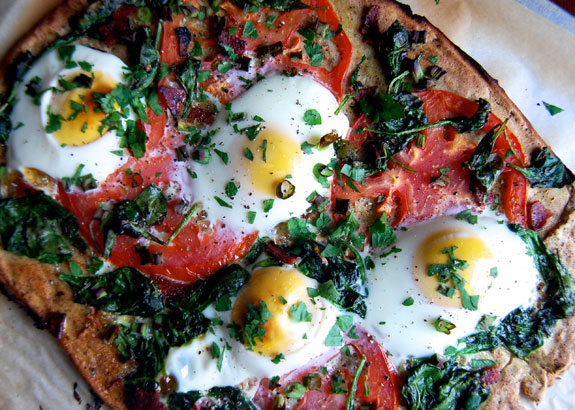 For more regular pizza options, you can top it with tomato sauce, pesto, veggies, sausage, pepperoni, arugula, spinach, and the list goes on. Bring out your creative side. Or, if there is more than one person eating the pizza, have each person assemble their own desired toppings on different parts of the pizza. With this recipe for Paleo pizza crust, everybody can enjoy pizza night.
Paleo Pizza Crust & Breakfast Pizza
2013-12-02 11:27:17
For the crust
3 eggs
1 cup full-fat canned coconut milk
1/2 cup of coconut flour
2 tsp of garlic powder
1 tsp onion powder
1 tsp Italian seasoning
1/2 tsp baking soda
For the breakfast pizza
3 strips bacon
1/4 cup scallions, chopped
1-2 tomatoes, sliced thin
2 cups spinach
4 eggs
1 tbsp fresh parsley, chopped
Directions
Preheat the oven to 375 degrees F. To form the pizza dough, lightly beat the eggs and coconut milk in a bowl. Add in the coconut flour, baking soda, and seasonings and mix into a smooth batter.
Spread the batter onto a baking sheet lined with parchment paper, using a spatula to smooth into either a circle or rectangle. Bake for 18-20 minutes or until the top is golden brown. Remove from oven. Carefully flip over.
While the crust is baking, cook the bacon in a skillet over medium heat. Reserving the bacon fat in the pan, set the bacon aside to cool and crumble into pieces. Barely wilt the spinach in the leftover bacon fat.
Add toppings to the baked crust. Start with bacon, tomato, spinach, and scallions. Carefully crack eggs onto the crust. Sprinkle with parsley. Bake for 12-15 minutes more, just until the egg whites have set. Slice and serve warm.
Notes
Servings: 4
Difficulty: Easy
Paleo Grubs http://paleogrubs.com/
Want more Paleo recipes? Take a look at the Paleo Grubs Book. With 470+ easy-to-prepare Paleo recipes in 17 comprehensive categories it is the only Paleo book you will ever need.
+ Make sure to sign up for our free newsletter to get our latest healthy recipes delivered weekly (it's free).