10 Paleo Macaroni and Cheese Recipes
0
Ah, macaroni and cheese. Beloved by children and adults alike—kids especially are fans of the fluorescent noodles that come from a box with a powdered cheese sauce. Why? Processed ingredients are powerful, and they know how to get you hooked.
Fortunately, there are recipes like these, with a cheesy taste, creamy texture, and a much more impressive nutritional profile. So if you've got a macaroni and cheese lover in your house, try one of these recipes and see if they don't fill the void.
1. Real Homemade Macaroni and Cheese
What makes this one real, you ask? Well, while it's dairy free, it's actually made with real noodles. Paleo noodles, of course! There's a recipe included in this one for the from-scratch noodles to go under this creamy nutritional yeast sauce with coconut milk and tomato sauce.

Photo: My Natural Family
2. Cauliflower Macaroni and Cheese
This perfectly paleo macaroni and cheese is made with cauliflower cut into the shape and size of macaroni, and a cheese sauce made from yellow summer squash, sweet onion, garlic powder, coconut milk, egg yolk, and seasonings. Super creamy and dairy free!
3. Spaghetti Squash Macaroni and Uncheese
This macaroni is made with spaghetti squash noodles (not quite a macaroni shape, but they'll do, right?) and an "uncheesy" sauce made from coconut oil, arrowroot powder, coconut milk, tahini or almond butter, Dijon mustard, and other seasonings.
This cheesy dish uses a cheese sauce made from dry mustard, soaked cashews, nutritional yeast, cayenne pepper, and lemon juice over delicious and healthy spaghetti squash noodles. This is super easy, and if you've never creamed cashews before, you're in for a treat.
5. AIP Butternut Squash Macaroni and Cheese
This is a super-healthy macaroni and cheese dish with cooked butternut squash, homemade bone broth, broccoli slaw, pancetta (yummy!), red onion, and seasonings. The pancetta really ramps up the flavor and makes you forget you're not eating dairy.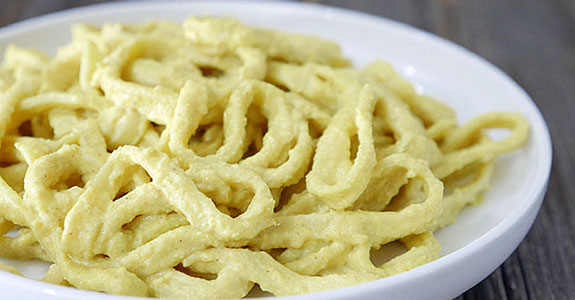 Photo: My Heart Beets
6. Almond Pasta Macaroni and Cheese
Sometimes you just need a noodle. Am I right? For those times, try this recipe that uses almond flour pasta and a cheese-free creamy sauce made from nutritional yeast, lemon juice, tahini, cashews, Dijon mustard, and other seasonings.
7. Zucchini Macaroni and Cheese
Coconut butter makes this no-cheese sauce extra rich and creamy, and vitamic C crystals mimic the flavor of sharp cheese. This dish is extra healthy with veggie noodles, and I recommend adding the shredded carrot both for color and extra nutrition.
8. Twice Baked Macaroni and Cheese
Baking this dish twice helps get the right texture for a yummy baked macaroni and cheese, and flavors from bacon, mustard, and nutritional yeast give this cashew-based macaroni and cheese the perfect creamy and delicious no-cheese cheesy flavor.
9. Paleo Buffalo Macaroni and Cheese
This dish has the hot and spicy flavors of buffalo wings, but without any of the unhealthy and paleo unfriendly ingredients! The "pasta" is spaghetti squash and chicken sausauge, and the cheese sauce is made from cashews, seasonings, and Frank's Red Hot Sauce.

Photo: Gutsy
10. Easy Zucchini Macaroni and Cheese
This dish isn't likely to fool any kids into thinking they're eating anything like Kraft, but it's healthy, tasty, and may satisfy your craving for that bright orange processed pasta. It's also one of the easiest recipes I have for you, made with cooked squash and sunflower seed flour.
Want more Paleo recipes? Take a look at the Paleo Grubs Book. With 470+ easy-to-prepare Paleo recipes in 17 comprehensive categories it is the only Paleo book you will ever need.
+ Make sure to sign up for our free newsletter to get our latest healthy recipes delivered weekly (it's free).