Gluten-Free Blueberry Lemon Cake
21
I wanted to come up with a cake recipe for special celebrations, whether it is a birthday or an anniversary. Or just to celebrate the fact that it's a Wednesday – really any reason will do. This blueberry lemon cake is a bright and flavorful dessert. You could split up the batter from this recipe to make cupcakes or smaller individual cakes as well.
The cake is mainly made with coconut flour, which adds its own sweetness. Start by greasing an 8-inch cake pan very generously with coconut oil. This is to prevent the cake from sticking to the bottom and sides of the pan when you try to flip it out later. After stirring the dry and wet ingredients together, fold the blueberries into the batter. This creates lovely pops of tart blueberry flavor throughout each slice of cake.
Once the cake is done baking and has turned golden brown, allow it to cool before trying to flip it out of the pan. You could of course also serve it straight from the pan. After loosening the sides of the cake with a spatula, I flipped mine out onto a flat baking sheet. If any pieces do stick to the pan, simply remove them with a metal spatula and fit them back onto the cake. The really great part about frosting is that you can cover any blemishes on the cake with it.
For the frosting, either use a blender or hand mixer in order to evenly combine the flavors. It's important to taste the frosting and adjust the ingredients so that it doesn't come out too sweet for the already sweet and tart cake.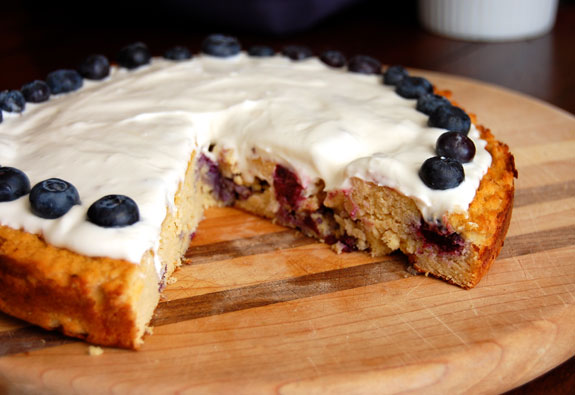 Blueberries and lemons are one of my favorite combinations for cakes or cupcakes, along with poppy seeds. Maybe next time some poppy seeds will make their way into this cake recipe, but for now it was perfectly delicious as it was. Celebrate any special day is with this delightful blueberry lemon cake.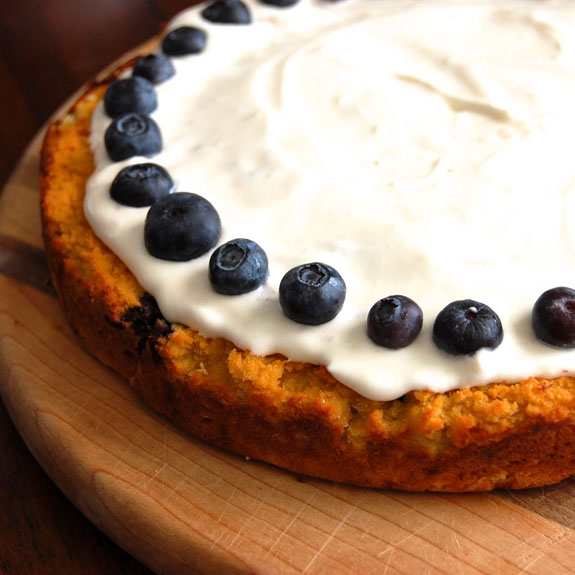 Gluten-Free Blueberry Lemon Cake
2014-02-11 11:55:49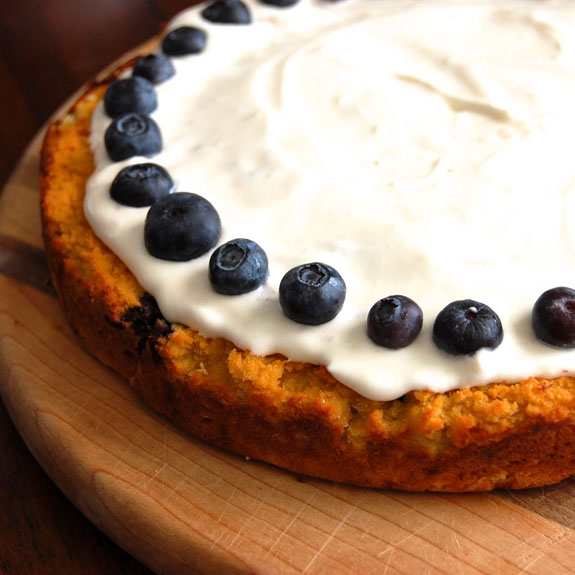 Ingredients
2/3 cup coconut flour
1/2 tsp baking soda
Pinch of salt
5 eggs
1/3 cup almond milk
1/4 cup honey
1 tsp vanilla extract
6 tbsp lemon juice
2 tsp lemon zest
1/2 cup fresh blueberries, plus additional for topping
Coconut oil, for the pan
For the frosting
3/4 cup coconut cream, chilled
Juice of 1/2 lemon
2 tbsp honey
Dash of vanilla
Instructions
Preheat the oven to 350 degrees F. Coat an 8-inch baking pan generously with coconut oil. Combine the coconut flour, baking soda, and salt together in a small bowl.
In a separate large bowl, mix together the eggs, almond milk, honey, vanilla, lemon juice, and lemon zest. Add in the coconut flour mixture and stir well to combine. Gently fold in the blueberries.
Pour the cake batter into the prepared baking pan. Bake for 30-40 minutes, until golden brown and a toothpick inserted into the center comes out clean. Allow to cool completely on a wire rack before carefully flipping out of the pan.
While the cake cools, blend together the coconut cream, lemon juice, vanilla, and honey until completely combined. Spread in an even layer on top of the cakes (once they have been flipped out of the pan). Top with additional blueberries if desired.
Notes
Servings: 6
Difficulty: Medium
Paleo Grubs http://paleogrubs.com/
Want more Paleo recipes? Take a look at the Paleo Grubs Book. With 470+ easy-to-prepare Paleo recipes in 17 comprehensive categories it is the only Paleo book you will ever need.
+ Make sure to sign up for our free newsletter to get our latest healthy recipes delivered weekly (it's free).