Lamb Chops with Mustard Sauce and Roasted Tomatoes
2
Succulent lamb is served alongside honey-roasted tomatoes and cauliflower rice for this decadent dinner. Large dinners with several different components are not very common around my dinner table, mainly because we always have leftover food from my cooking job. But once in awhile, I gather the effort to make a large, fancy dinner, usually in honor of an event or holiday. Though the ingredients are simple, the flavors are worthy of any celebration.
Lamb is a bit of a splurge at the grocery store, so I wanted to be sure to present it with worthy accompaniments. Tomatoes drizzled with honey and then roasted in the oven turn out bright, sweet, and juicy. For a starch to round out the meal, I relied upon with my tried-and-true recipe for cauliflower rice. The tomatoes and rice can also be prepared ahead of time and then reheated for serving.
The lamb itself does not need much seasoning to cook it, just a rub of olive oil with some simple salt and pepper. Lamb was a protein that I originally approached apprehensively, but have since become happily familiar with. It seemed intimidating at first, but after cooking it a couple of times I realized how quickly and easily it cooks. The only tricky part is cooking it to your preferred level of doneness. I have found it easier to cook double rib chops, first searing them on the stove and then finishing them in the oven. The single rib chops cook much more quickly.
The sauce can easily be put together while the lamb is resting, before you serve it. The mustard onion sauce drizzled over the tender lamb makes the perfect finishing touch.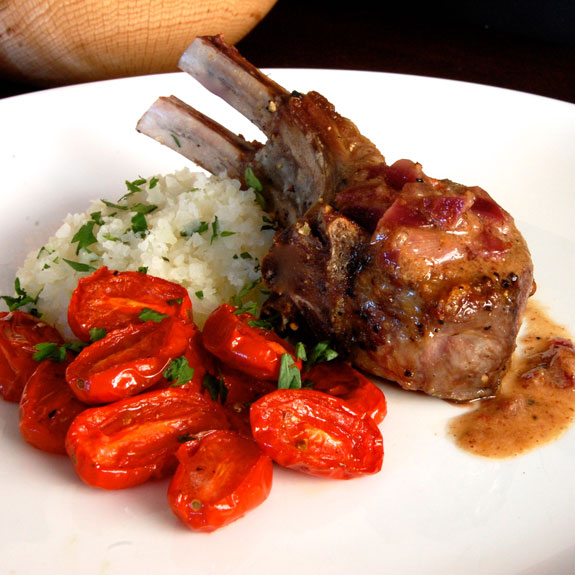 Lamb Chops with Mustard Sauce and Roasted Tomatoes
2014-03-31 09:44:18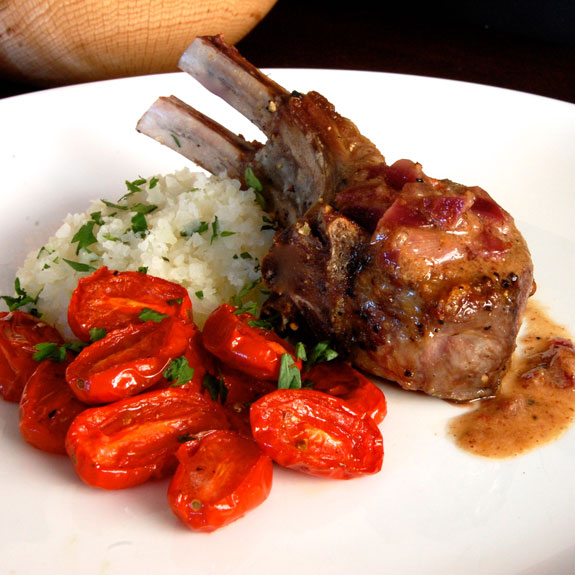 For the tomatoes
2 pints cherry tomatoes, halved
2 tbsp extra virgin olive oil
2 tbsp honey
Salt and freshly ground pepper
For the cauliflower rice
1/2 head of cauliflower, chopped coarsely
1/2 small onion, finely diced
1 tbsp coconut oil
1 tbsp fresh parsley, chopped
Salt and freshly ground pepper, to taste
For the lamb
4 double lamb rib chops, Frenched
Extra virgin olive oil
Salt and freshly ground pepper
Coconut oil, for the pan
For the sauce
1/4 cup red onion, finely diced
1/4 cup white wine vinegar
1 cup chicken stock
1 tbsp whole grain mustard
Salt and freshly ground pepper, to taste
Instructions
Preheat the oven to 400 degrees F. Place the tomatoes on a baking sheet and drizzle with olive oil and honey. Sprinkle with salt and pepper and toss to coat evenly. Bake for 15-20 minutes until soft.
While the tomatoes are roasting, prepare the cauliflower rice. Place the cauliflower into a food processor and pulse until reduced to the size of rice grains. Melt the coconut oil in a nonstick skillet over medium heat. Add the onion and cook for 5-6 minutes until translucent. Stir in the cauliflower, season with salt and pepper, and cover. Cook for 7-10 minutes until the cauliflower has softened, and then toss with parsley.
To make the lamb, preheat the oven to 325 degrees F. Pat the lamb chops dry and rub with olive oil. Generously season both sides with salt and pepper. Heat one tablespoon of coconut oil in a cast iron skillet. When the pan is hot, add the ribs to the pan and sear for 2-3 minutes on all sides until golden brown.
Place the skillet in the oven and bake for 5-8 minutes until the lamb reaches desired doneness. Let rest for 10 minutes before serving.
While the lamb is resting, add the red onion to the skillet with the pan drippings from the lamb. Sauté for 3-4 minutes, then add the white wine vinegar. Turn the heat to high and cook until the vinegar has mostly evaporated. Add the stock and bring to a boil, cooking until the sauce reduces by half. Stir in the mustard, and season to taste with salt and pepper. Pour over lamb rib chops to serve.
Notes
Servings: 4
Difficulty: Medium
Paleo Grubs http://paleogrubs.com/
Want more Paleo recipes? Take a look at the Paleo Grubs Book. With 470+ easy-to-prepare Paleo recipes in 17 comprehensive categories it is the only Paleo book you will ever need.
+ Make sure to sign up for our free newsletter to get our latest healthy recipes delivered weekly (it's free).