Sausage and Kale "Pasta" Casserole
5
Casseroles usually equal comfort food in my book, and this sausage and kale pasta casserole definitely fits the bill. As an added bonus it is quite simple to make. The spaghetti squash is baked first, and then stirred into the rest of the ingredients on the stove before everything finishes baking together in the oven. The savory and creamy dish tastes almost too good to be healthy for you.
The coconut milk lends a silky texture to the spaghetti squash casserole. There are other casserole recipes that turn out creamier, but this version is more similar to a pasta bake. I have previously provided a step-by-step photo tutorial on preparing spaghetti squash in another post, so feel free to refer to that for detailed directions. While the spaghetti squash is baking, you can start cooking the sausage and kale on the stove.
I have a short life lesson for you today. Sometimes, I order groceries to be delivered to our apartment if I have a lot of recipes to make that week. Last week, the one bunch of kale that I ordered was replaced with a several-gallon bag of kale. I did not even know kale could be delivered in such large quantities. Some was given away to friends, but for most of it I was able to incorporate into recipes such as this. Large handfuls of kale cook down to almost nothing once wilted. In this recipe kale works really well with spaghetti squash and coconut milk. The health benefits of kale are undeniable, so I definitely take the opportunity to work it into recipes when I can.
Moral of the story, make sure that when you place that online order for groceries, you uncheck the box that says "if not available, substitutions can be made." Otherwise you might end up with more kale than you can fit in your refrigerator. But good things can come of it, such as this sausage and kale pasta casserole.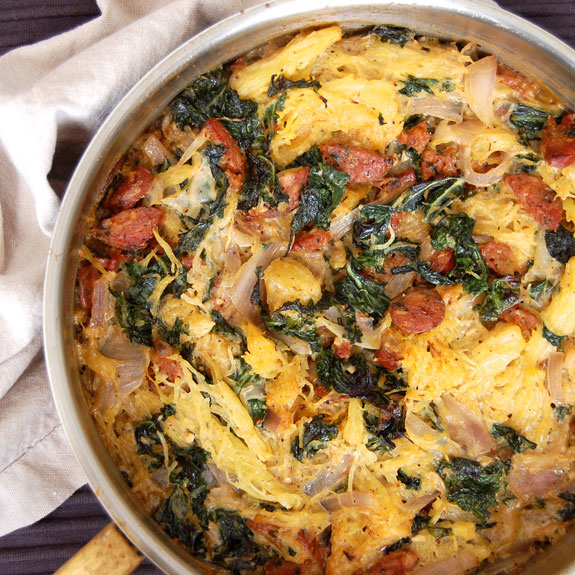 Sausage and Kale Pasta Casserole
2014-02-28 12:01:11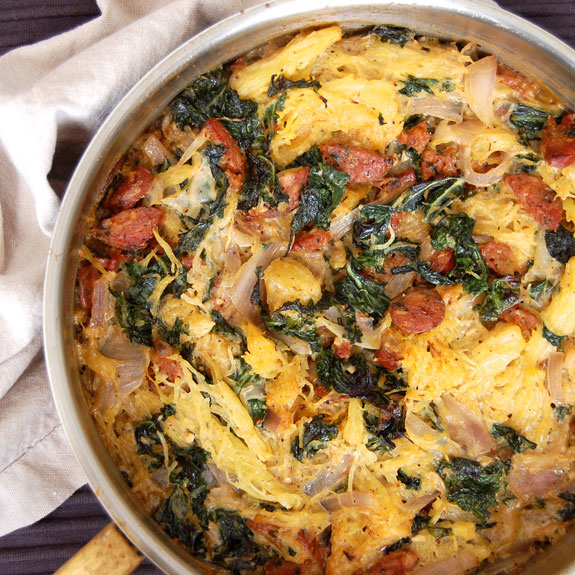 Ingredients
1 lb. Italian sausage
1 medium spaghetti squash, halved and seeded
Extra virgin olive oil, for drizzling
1 large bunch of kale, de-stemmed, and chopped
1/2 red onion, sliced thin
1/3 cup chicken broth
1/2 cup coconut milk
1 clove garlic, minced
2 tsp Italian seasoning
Salt and freshly ground pepper, to taste
Instructions
Preheat the oven to 400 degrees F. Place the squash in the microwave for 3-4 minutes to soften. Using a sharp knife, cut the squash in half lengthwise. Scoop out the seeds and discard. Place the halves, with the cut side up, on a rimmed baking sheet. Drizzle with olive oil and sprinkle with salt and pepper. Roast in the oven for 45-50 minutes, until you can poke the squash easily with a fork. Let it cool until you can handle it safely. Then scrape the insides with a fork to shred the squash into strands.
Meanwhile, melt the coconut oil in a large oven-safe skillet over medium heat. Add the sausage and brown. Once cooked through, remove to a plate. In the same skillet, add the onion and sauté for 3-4 minutes. Next add the garlic, Italian seasoning, and kale and cook for 2-3 minutes to slightly wilt the kale. Pour in the chicken broth and coconut milk and simmer for an additional 2-3 minutes. Remove from heat.
Stir in the cooked sausage. Add the spaghetti squash into the skillet and stir well to combine. Bake for 15-18 minutes, until the top has slightly browned. Serve hot.
Notes
Servings: 4
Difficulty: Medium
Paleo Grubs http://paleogrubs.com/
Want more Paleo recipes? Take a look at the Paleo Grubs Book. With 470+ easy-to-prepare Paleo recipes in 17 comprehensive categories it is the only Paleo book you will ever need.
+ Make sure to sign up for our free newsletter to get our latest healthy recipes delivered weekly (it's free).