Indian Paleo Stew with Chicken
4
This hearty stew is the ideal dish for a lazy weekend dinner. Once it starts cooking, you can just let it simmer all afternoon. Chicken is browned and then slowly simmered in a tomato sauce flavored by Indian spices. We served it for dinner alongside the Paleo version of naan and cauliflower rice.
Dutch ovens are excellent to have on hand for whipping up stews such as this. I find that winter is the main time when my Dutch oven gets a workout, since I am cooking heartier soups and casseroles. The slight advantage of a Dutch oven versus a slow cooker is that you can sear the protein (in this case, chicken) in the same pot that you cook everything else in. Dutch ovens can be used on the stovetop or in the oven – although when you are cooking stew on the stovetop, make sure to occasionally stir the ingredients so that the bottom does not burn or stick.
This recipe begins by searing the chicken in a Dutch oven. The chicken is then removed to a plate, and onion, garlic, and ginger are added into the pot. Next the spices are introduced – the Indian-inspired spice combination works well in this dish, providing aromatic notes and a little heat. If you enjoy dishes such as chicken tikka masala or chicken makhani, you will love the flavors in this dish. Garam masala really shines, providing warmth and sweet depth of flavor. If you like the flavors of garam masala, I also recommend PaleoGrub's Spicy Pepper Chicken Stir Fry.
After the spices, the chicken is added back into the pot with tomato puree and chicken broth. The mixture simmers for about an hour and a half, and should be stirred occasionally. Then I decided to shred the chicken and continue cooking it in the sauce a little longer, with the addition of sweet potatoes. The potatoes soak up the delicious warm and spicy tomato sauce. A bit of coconut cream is incorporated at the end to round out the sauce. The comforting stew is then ready to enjoy.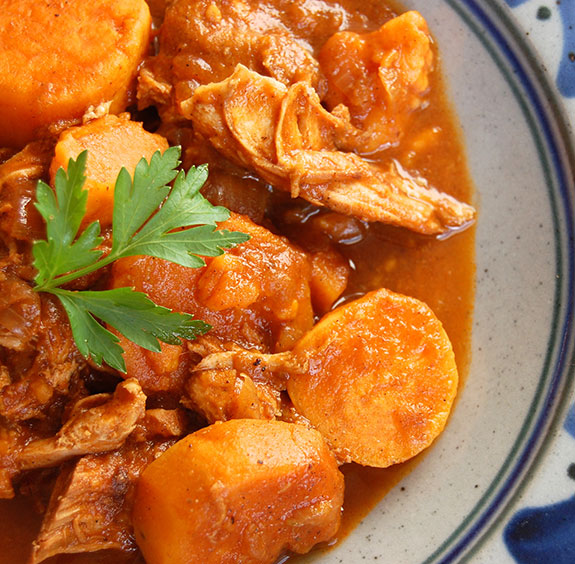 Indian Paleo Stew with Chicken
2014-12-14 17:55:18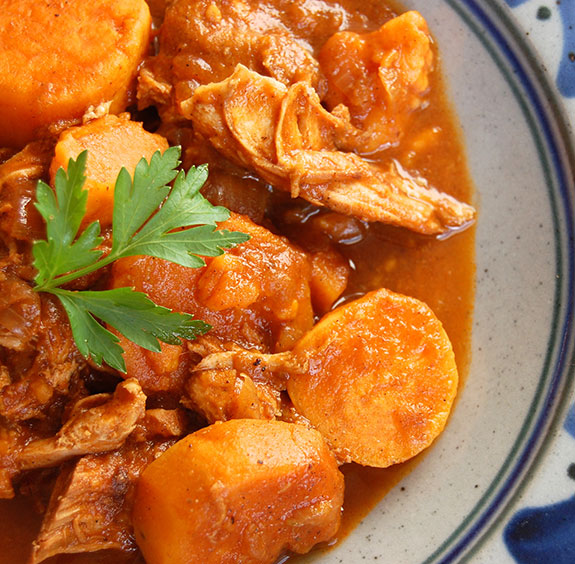 Ingredients
3 tbsp extra virgin olive oil, divided
3 boneless skinless chicken breasts
Salt and freshly ground pepper
1 medium yellow onion, chopped
4 cloves garlic, chopped
1 tbsp ginger, finely grated
1 tbsp garam masala
2 tsp cumin
1 tsp ground coriander
1/2 tsp cayenne
3 cups chicken broth
3/4 cup tomato puree
1/2 cup coconut cream
2-3 small sweet potatoes, peeled and chopped
Fresh parsley, for garnish
Instructions
Heat two tablespoons of olive oil in a Dutch oven over medium heat. Generously season the chicken with salt and pepper and place into the pan. Brown on each side for 4-5 minutes. Remove to a plate and set aside.
In the same pan, heat the remaining tablespoon of oil and add the onion, garlic, and ginger. Sauté for 6-8 minutes until soft. Add a tablespoon of the tomato puree, along with the garam masala, cumin, coriander, and cayenne. Stir to combine, cooking for an additional 3-4 minutes.
Add the chicken, chicken broth, and remaining tomato puree to the pot. Bring to a boil, then reduce the heat and simmer for 1 1/2 hours. Season with salt and pepper to taste. Remove the chicken to a plate and cut or pull into shredded pieces. Return to the pot and add the sweet potatoes. Continue to simmer for another 35-45 minutes, until the sauce is thick and the potatoes are tender, stirring occasionally. During the last five minutes, stir in the coconut milk. Serve warm.
Notes
Servings: 4
Difficulty: Medium
Paleo Grubs http://paleogrubs.com/
Want more Paleo recipes? Take a look at the Paleo Grubs Book. With 470+ easy-to-prepare Paleo recipes in 17 comprehensive categories it is the only Paleo book you will ever need.
+ Make sure to sign up for our free newsletter to get our latest healthy recipes delivered weekly (it's free).