Easy Homemade Gluten-Free Energy Bars
49
As a big fan of hiking, I am always on the lookout for different grab-and-go snacks that I can take with me on trips. Usually energy bars can get pricey. Then I found out that you can make something just as tasty, at home, without cooking, for much less. No kidding! As little as three ingredients can provide you with your very own customized energy bar. Dates, dried fruit, and nuts make up a gluten-free energy bar packed with flavor.
I am a big fan of chewy energy bars, such as to Lärabars. But you can make them yourself instead, with your favorite alterations. They provide the boost of energy that needed to make it over the river and through the woods. They are not only grain-free but also satisfying.
Feel free to play with the ratios, but definitely keep the dates, which help everything bind together. I used almonds and dried cranberries, but any dried fruit or nut will substitute. I also added a little bit of unsweetened coconut flakes, because I can't get enough, and some dark chocolate chips, because I know that I won't eat an energy bar without chocolate. You could also try adding chia seeds, pumpkin seeds, cinnamon, nutmeg, you name it.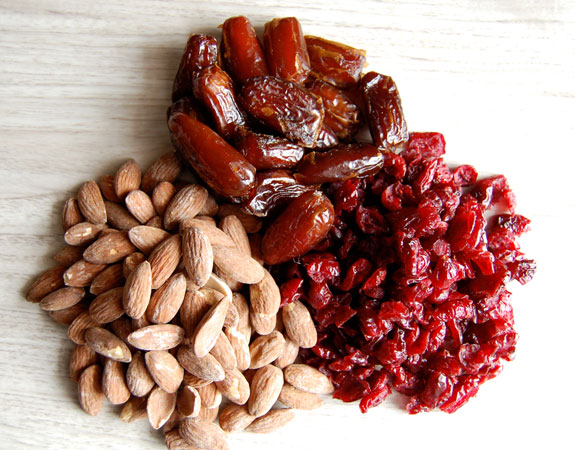 I was very pleasantly surprised by how little time these took to make. Step one. Blend ingredients. Step two. Form into a square bar and refrigerate. Wait? What? The only question you'll have to worry about is what to do with your extra time. Maybe go for a hike.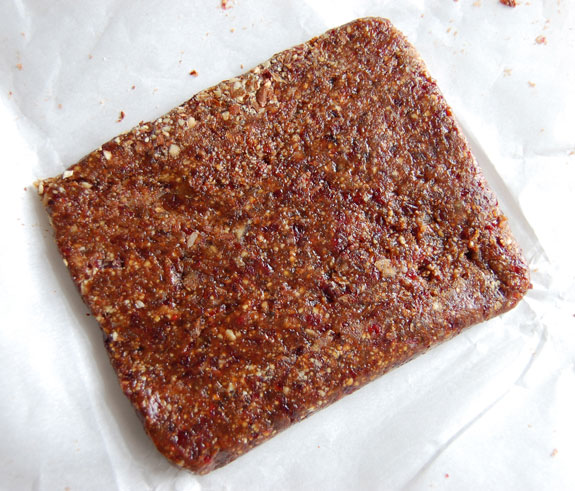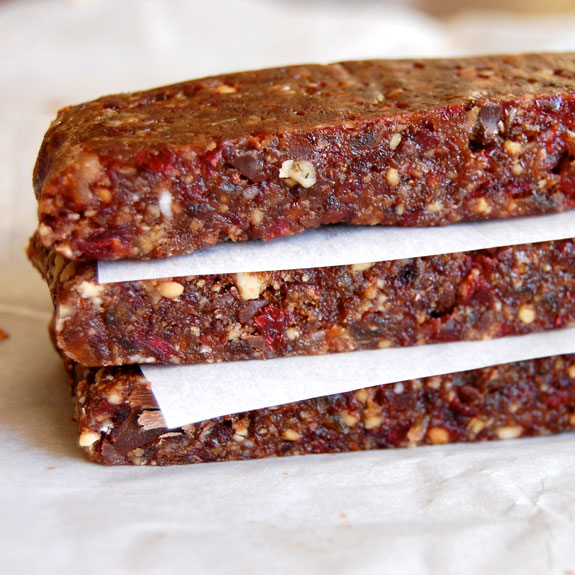 Gluten-Free Energy Bars
2013-11-19 15:48:33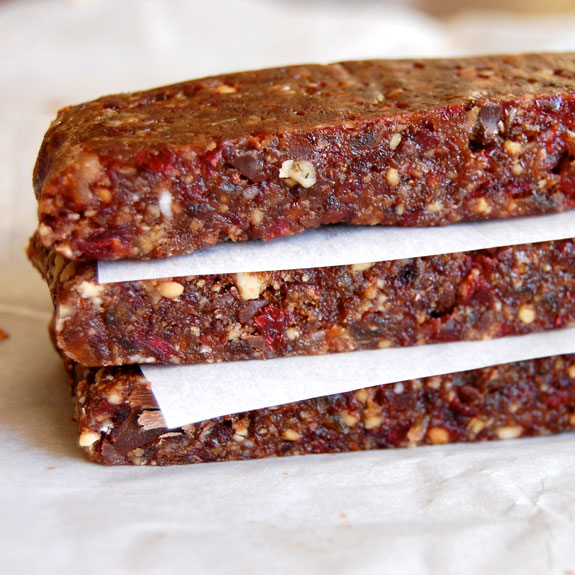 Ingredients
1 cup almonds
1 cup dried cranberries
1 cup pitted dates
1 tbsp unsweetened coconut flakes
1/4 cup mini dark chocolate chips
Instructions
Combine all of the ingredients in a blender or food processor. Pulse a few times to break everything up. Then blend continuously until the ingredients have broken down and start to clump together into a ball.
Using a spatula to scrape down the sides, turn out the mixture onto a piece of wax paper or plastic wrap. Press into an even square and chill, wrapped, for at least an hour. Cut into desired size of bars, wrapping each bar in plastic wrap to store in the fridge.
Notes
Servings: 8 bars
Difficulty: Easy
Paleo Grubs http://paleogrubs.com/
Want more Paleo recipes? Take a look at the Paleo Grubs Book. With 470+ easy-to-prepare Paleo recipes in 17 comprehensive categories it is the only Paleo book you will ever need.
+ Make sure to sign up for our free newsletter to get our latest healthy recipes delivered weekly (it's free).