Simple Homemade Paleo Coleslaw
3
If there's one thing I've learned recently it's that I should no longer be afraid of mayonnaise – provided I make it myself. This recipe calls for homemade paleo mayo, so if you don't have a jar of it sitting in your fridge already I highly recommend whipping one up! And have no fear, if you make it with egg whites instead of a whole egg you can use as much mayonnaise as you'd like in this recipe without worrying about over-doing your calorie intake. There are ways to make paleo coleslaw by omitting the mayonnaise all together, but I wanted to recreate the classic coleslaw I grew up on.
I prefer mine a little chunkier, so I diced up the two different types of cabbage instead of shredding them. If you're REALLY looking for a classic slaw, I'd recommend shredding them so the whole dish is more uniform.
This slaw is the perfect amount of tangy and sweet – the vinegar meshes with the mayonnaise and seasonings to create a delightful dressing that you won't want to stop eating.
This coleslaw is the perfect side dish or main dish (with a little variation). I ate some of mine for breakfast topped with two fried eggs, which was a delightful mix of warm and cold. Looking for a dinner option? Cook up some chicken breast the way you prefer, then chop and mix with a bit of coleslaw and romaine lettuce. No extra dressing required! The possibilities are endless if you use your imagination, and you'll want to eat this coleslaw with every meal once you try it.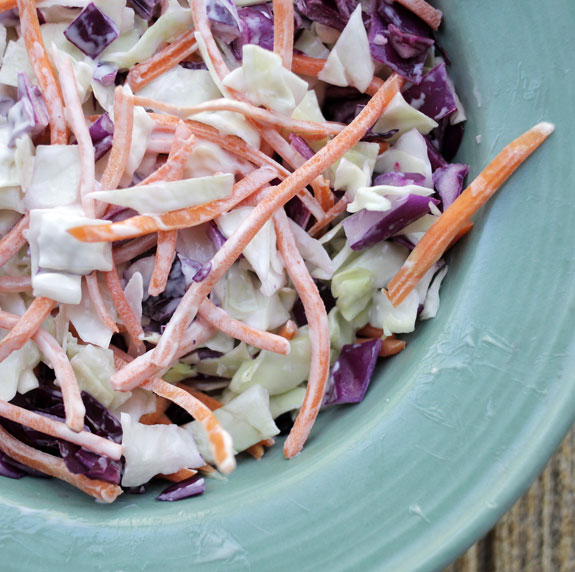 Homemade Paleo Coleslaw
2013-10-31 12:05:12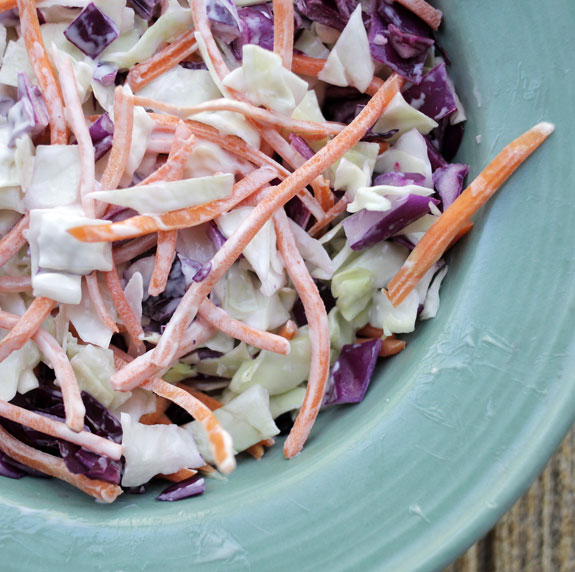 Ingredients
½ head green cabbage
½ head purple cabbage
2 cups shredded carrots
¼ cup white vinegar (or apple cider vinegar)
½ tsp sea salt
½ tsp black pepper
½ tsp dry mustard
½ tsp celery seed
½ tsp garlic powder
½ cup homemade paleo mayonnaise
This recipe serves approximately 8 people.
Instructions
Dice or shred both half heads of cabbage.
Place into a large bowl with shredded carrots, mix well.
Add in vinegar and mayonnaise, mix well.
Add in all seasonings (adding more or less to taste), and mix until cabbage and carrot mixture is fully coated.
Serve and enjoy! Covering and placing in the fridge for about an hour before serving will allow the flavors to fully mature.
Paleo Grubs http://paleogrubs.com/
Want more Paleo recipes? Take a look at the Paleo Grubs Book. With 470+ easy-to-prepare Paleo recipes in 17 comprehensive categories it is the only Paleo book you will ever need.
+ Make sure to sign up for our free newsletter to get our latest healthy recipes delivered weekly (it's free).