Guilty Paleo Orange Chicken
1
This Paleo orange chicken recipe gives you the bold flavors of orange chicken without all the added calories. It is a lighter version of traditional Chinese orange chicken, while still being a guilty pleasure. The citrusy and sweet sauce is cooked with the pan-seared chicken so that this dinner is ready in 30 minutes or less.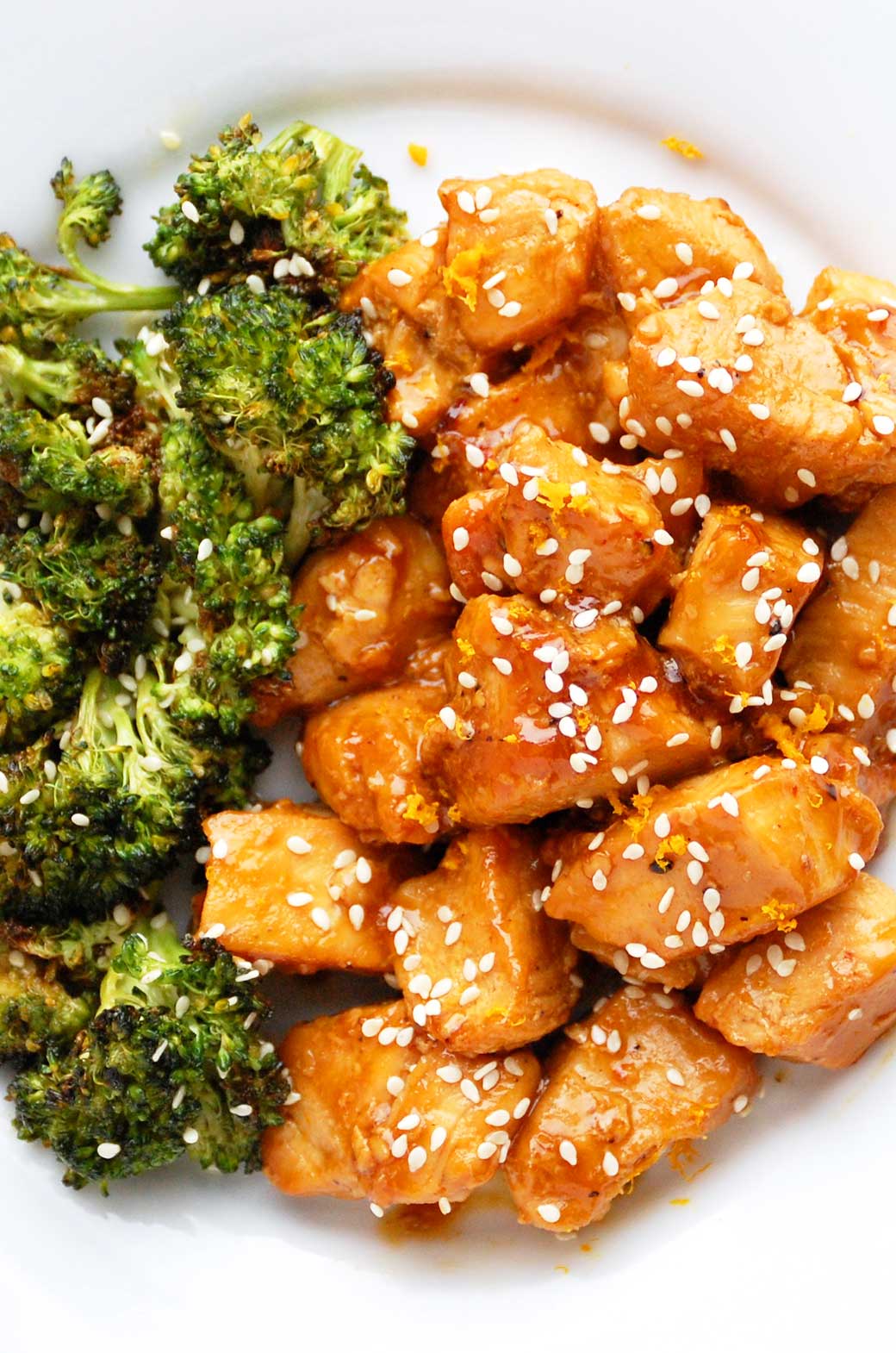 In this lightened-up recipe, the chicken is not battered and fried as in traditional orange chicken recipes. Instead, chicken breasts are simply pan-seared and smothered with the delicious orange sauce. Chicken thighs will work just fine too. Cut whatever chicken you use into bite-size pieces before sautéing, and generously season with salt and pepper.
The orange sauce is naturally sweetened with honey, which can be adjusted to personal taste. It uses plenty of orange juice and orange zest as well. Also included are coconut aminos (the Paleo substitute for soy sauce) and apple cider vinegar (instead of rice wine vinegar). Once the sauce has simmered for 5-10 minutes it should thicken enough to coat the back of a spoon. If you like a thicker sauce, stir in a little arrowroot powder that has been mixed with water.
The key to making this dish healthier is sautéing instead of frying. Once the chicken is golden brown and drenched in the tangy sauce, you won't even miss the fried coating. Plus you don't get all of the calories and fat that accompanies the traditional version, which is usually dredged in cornstarch batter.
Making orange chicken at home instead of ordering takeout is easier than you may think, and so much healthier. In the amount of time you would have to wait for delivery, you can make this delicious low calorie orange chicken recipe instead. To serve, top it with green onions and crunchy sesame seeds. Include broccoli or cauliflower rice for a filling meal.
(Read these next: Slow Cooker Orange Chicken Drumsticks and 7 Homemade Paleo Orange Chicken Recipes)
Guilty Paleo Orange Chicken
2017-08-20 08:24:45
Serves 4
Ingredients
2 lbs. boneless skinless chicken breasts, cut into 1-inch pieces
Salt and pepper
2 tbsp coconut oil
3 scallions, sliced
2 tsp sesame seeds, optional
1 tsp arrowroot powder, optional
For the sauce
1/2 cup fresh orange juice
Zest of 1 orange
1/4 cup chicken stock
3 tbsp honey
1 tbsp coconut aminos
1 tbsp apple cider vinegar
1/2-inch piece fresh ginger, grated
2 cloves garlic, minced
Pinch of salt
Pinch of red pepper flakes
Instructions
In a small bowl, stir together the ingredients for the sauce. Adjust sweetness to taste. Set aside.
Generously season the chicken with salt and pepper. Melt the coconut oil in a skillet over medium heat. Add the chicken and sauté for 8-10 minutes, until browned and nearly cooked through.
Pour in the orange sauce and stir to combine. Bring the sauce to a boil and simmer for 5-7 minutes until slightly thick. For thicker sauce, mix the arrowroot powder with a tablespoon of water and stir into the pan. The sauce should be thick enough to coat the back of a spoon. Serve immediately, sprinkled with sesame seeds and green onion.
Paleo Grubs http://paleogrubs.com/
Want more Paleo recipes? Take a look at the Paleo Grubs Book. With 470+ easy-to-prepare Paleo recipes in 17 comprehensive categories it is the only Paleo book you will ever need.
+ Make sure to sign up for our free newsletter to get our latest healthy recipes delivered weekly (it's free).