Raw Mini Carrot Cakes with Cinnamon Glaze
23
The classic popular dessert of carrot cake is given a raw interpretation for this delicious recipe. Healthy whole foods are mixed with cinnamon, ginger, cloves, and nutmeg to recreate all the flavors of carrot cake without the processed sugar and flour.
If someone were to ask me what my favorite kind of cake was, I would definitely say carrot cake. It was always carrot cake that I requested for my birthday (once I got over the ice cream cake phase), and I always tried to steal the carrot cake cupcake when we celebrated a birthday party at the office. I used to crave it. Little did I know that you could get all the wonderful spices and flavors of carrot cake in a completely healthy way. Instead of feeling guilty for eating three cupcakes (I maybe had a problem) now I am eating something that is full of carrots, which help my skin glow and give me better eyesight. What a good deal.
These mini carrot cakes are actually enjoyed raw. Raw meaning there is no cooking required, but don't let that keep you from trying them out. There are a lot of Paleo recipes out there for baking carrot cakes, but I don't really see the need to go through more effort and add almond flour when the raw result is this good and easy to make.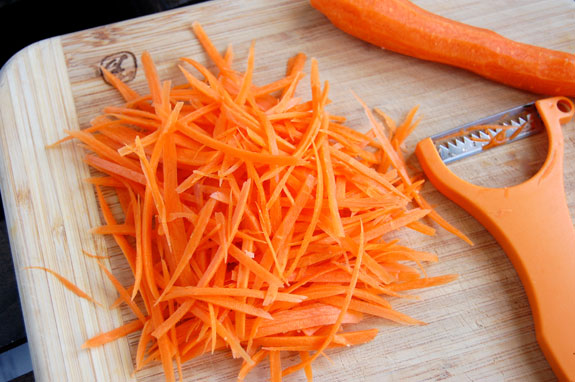 The "cake" is a breeze to make because all of the ingredients are simply mixed together in the food processor. That mixture is then pressed into a mini cheesecake pan to form the shape of the cakes. You can really press it into any shape using any choice of pans, but I recommend using one that is springform. This recipe made 16 mini cakes, which I believe would be enough for one large cake as well. If you have any leftovers, make sure to refrigerate.
Since the frosting is made of coconut cream instead of cream cheese, that is the part of the recipe that varies from the traditional cake flavors a little bit. However it is still sweet, and creamy, and tastes delicious. If you are not a fan of coconut, maybe try a frosting made from soaked cashews instead. Then top with a few more chopped walnuts to add the finishing touches. This is one of the easiest, and tastiest, cakes that I have made for the Paleo diet, packed with nutrients while still satisfying that carrot cake craving.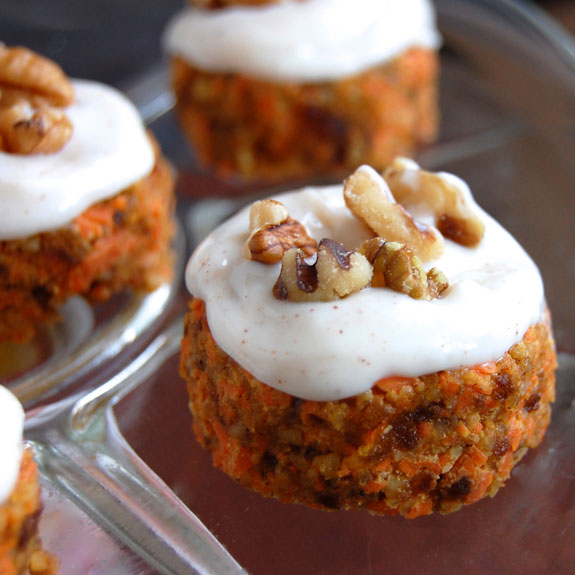 Raw Mini Carrot Cakes with Cinnamon Glaze
2014-04-27 09:41:45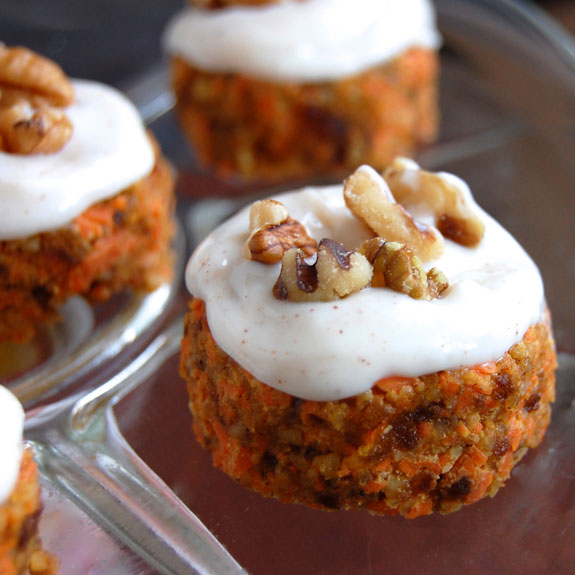 Ingredients
3 cups shredded carrots
1 cup pitted Medjool dates
1 cup walnuts
1/2 cup unsweetened coconut flakes
1 tsp cinnamon
1/4 tsp ground ginger
1/4 tsp nutmeg
1/4 tsp ground cloves
Pinch of salt
For the glaze
1 14-oz. can coconut milk, chilled
1 tsp honey
1/2 tsp cinnamon
1/2 tsp vanilla extract
Pinch of ground cloves
Instructions
Place the ingredients for the cake into a blender or food processor. Pulse until everything is evenly combined. Press the mixture into a mini cheesecake pan or any springform baking pan.
Blend together the chilled coconut cream (spooned from the top of the can), honey, cinnamon, vanilla, and ground cloves until completely combined. Spread on top of the cakes. Top with additional walnuts if desired.
Notes
Servings: 16 mini cakes
Difficulty: Easy
Paleo Grubs http://paleogrubs.com/
Want more Paleo recipes? Take a look at the Paleo Grubs Book. With 470+ easy-to-prepare Paleo recipes in 17 comprehensive categories it is the only Paleo book you will ever need.
+ Make sure to sign up for our free newsletter to get our latest healthy recipes delivered weekly (it's free).