Paleo French Toast with Blueberry Syrup
10
One of my favorite breakfast items growing up was French toast. Huge fan, right here. However, after my decision to start eating healthier, I stopped having it completely. I didn't realize then that eating healthy does not mean you have to give up the things you love. I mean, if a gluten-free diet such as Paleo has found a way to make bread, anything is possible. So I am happy to share this recipe for Paleo French toast with you, a spin on a childhood favorite of mine. Granted, it's not something I eat regularly, but it makes a perfect treat on occasion.
I had some fresh blueberries around and decided to incorporate them into the French toast by making blueberry syrup. It's quite simple, really. All you have to do is add blueberries and a bit of maple syrup together in a small pan on the stove. Bring to a simmer and then turn down to low. The syrup will slowly turn a beautiful deep purple. Serve over the French toast for a delicious accompaniment.
I believe French toast might be one of the easiest breakfast foods to prepare. You simply dip bread in an egg and milk mixture (with whatever added flavors you like) and then cook it. It's ready in about 5 minutes. And then you get to cover it in syrup and fruit. A delicious and simple indulgence.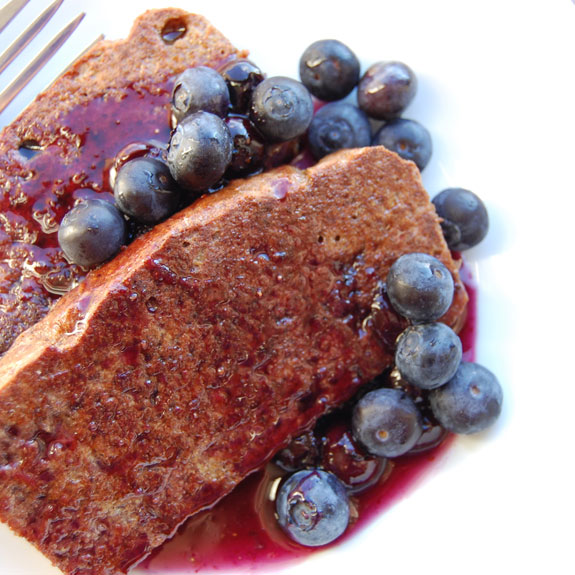 French Toast with Blueberry Syrup
2013-11-19 16:01:13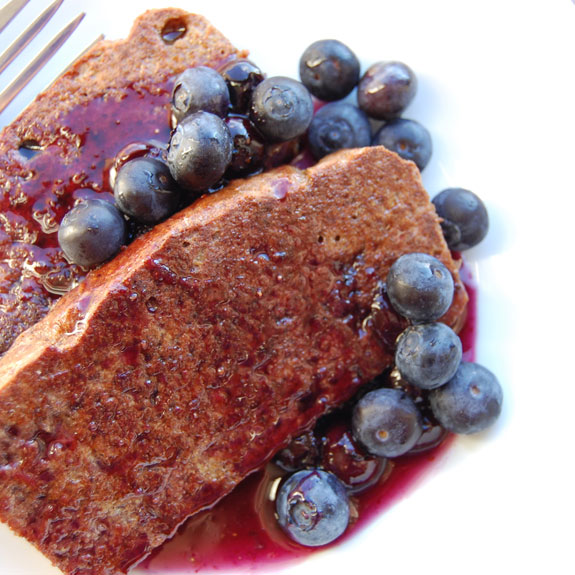 Ingredients
1 loaf Paleo bread (I used this recipe for Paleo Bread)
1/2 cup almond milk
2 eggs
1/2 tbsp vanilla
1 tsp cinnamon
Instructions
In a large bowl, whisk together the coconut milk, eggs, vanilla and cinnamon.
Heat a griddle or non-stick skillet to medium-high. Coat pan with coconut oil. Dip a slice of bread into the batter mixture to coat both sides, letting any excess drip off. Place the bread onto the pan and cook each side until slightly browned. Repeat with remaining bread. Serve warm.
Notes
Servings: 4
Difficulty: Easy
Paleo Grubs http://paleogrubs.com/
Want more Paleo recipes? Take a look at the Paleo Grubs Book. With 470+ easy-to-prepare Paleo recipes in 17 comprehensive categories it is the only Paleo book you will ever need.
+ Make sure to sign up for our free newsletter to get our latest healthy recipes delivered weekly (it's free).