Coconut Macaroons with Chocolate and Pistachio
16
Coconut is rapidly becoming one of my favorite flavors. This recipe highlights coconut in the form of a macaroon, with some added chocolate for decadence and pistachios for saltiness. These bite-size treats are delicious and naturally gluten-free.
Coconut provides a lot of fiber and healthy fats to the macaroons, and they are lightly sweetened with honey. They are crispy on the outside and moist and chewy on the inside. The inside almost tastes like the inside of an Almond Joy bar. I wanted to not only dip them in chocolate (my favorite addition to macaroons) but I also wanted to add a hint saltiness. Hence the chopped pistachios that are sprinkled on top. You could also use candied ginger for a different kind of tasty decoration.
My main memory involving macaroons is seeing them on display at the bakery when I was young. A slightly sweet smell filled the air, and they were still warm from the oven. Choosing which one you wanted was always exciting, as you tried to pick out the very best looking rounded macaroon. When you popped one into your mouth it would melt on your tongue, and always leave you wanting more.
Macaroons turned out to be easier to make than I had anticipated. Coconut flakes are combined with eggs and honey and baked in the oven, then cooled. You want to make sure that the coconut flakes soak up all of the liquids so that the macaroons turn out moist and chewy. The lemon adds a bright note among the sweetness.
These coconut macaroons taste like they could be from a bakery but are made right at home instead. The rich and sweet flavors are a wonderful treat for adults or kids.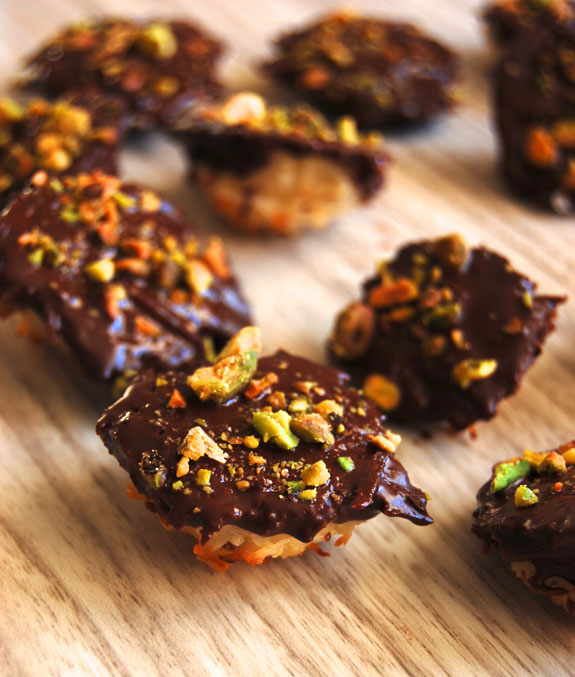 Coconut Macaroons with Chocolate and Pistachio
2014-01-16 18:42:05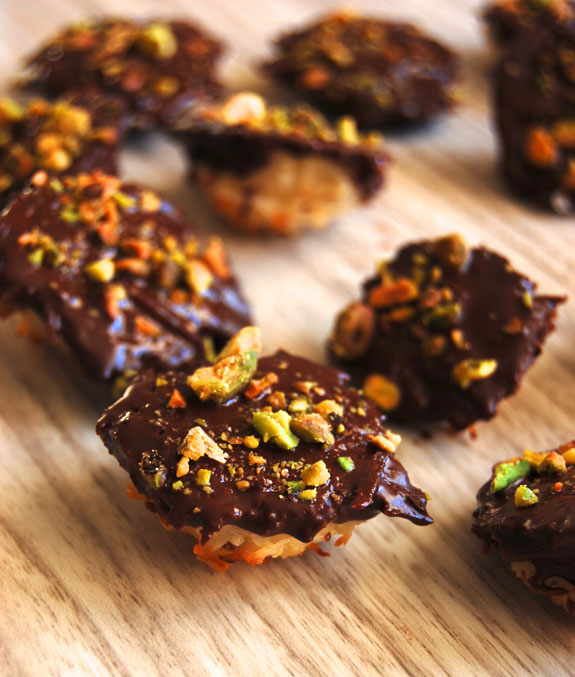 Ingredients
2 egg whites
1/4 cup honey
1 tsp vanilla extract
Zest from 1 lemon
Pinch of salt
1 1/2 cups grated coconut
2 tbsp ghee, melted
Coating
3 1/2 oz. dark chocolate
1 tsp coconut oil
1 tbsp pistachio nuts, shells removed
Instructions
Preheat the oven to 350 degrees F. Line a baking sheet with parchment paper. In a large bowl, whisk together the egg whites, honey, vanilla, lemon zest, and salt until foamy. Mix in the ghee and coconut flakes. Let rest for 20 minutes to allow the coconut to soak up the liquid.
Spoon 1 tightly packed tablespoon of the mixture onto the lined baking sheet. Repeat with remaining batter, and then bake for 8-12 minutes. Remove from the oven once the macaroons turn golden. Carefully transfer to a wire rack to cool completely.
Finely chop the pistachio nuts and set aside. Prepare a double broiler and melt the chocolate and coconut oil for the coating. Dip the bottom of each macaroon in the chocolate and place on the wire rack with the chocolate side up. Sprinkle with chopped pistachios and allow to dry.
Notes
Servings: about 20 small macaroons
Difficulty: Medium
Paleo Grubs http://paleogrubs.com/
Want more Paleo recipes? Take a look at the Paleo Grubs Book. With 470+ easy-to-prepare Paleo recipes in 17 comprehensive categories it is the only Paleo book you will ever need.
+ Make sure to sign up for our free newsletter to get our latest healthy recipes delivered weekly (it's free).