Paleo Coconut Cupcakes with Chocolate Frosting
21
It's a new year, with new beginnings. Celebrate with some clean eating treats, topped with a smudge of chocolate ganache. My preferred treats to share are cupcakes. Cupcakes are easy to bake, and no one asks for a bigger or smaller slice of cake – everyone just gets one cupcake. And I have yet to try making a Paleo cake pop, so while that's still in the works, you should try these delicious coconut flour cupcakes. And what are cupcakes without frosting? The chocolate ganache is ready in no time to top these off.
In developing Paleo recipes, I have found that my favorite recipes usually have to do with baking. I think I've become a baker at heart, and love to make sweet and healthy combinations to share with others. Coconut flour still baffles me though. Half a cup of flour for all of these cupcakes? Where does the substance come from? At first I thought that in order to bake Paleo recipes you needed to know some secret formula or magic trick. It turns out that neither of those is true. It's actually very easy to use and proportion. There is also the option of using almond flour, though that uses different ratios for baking and of course isn't nut free like coconut flour.
I also prefer simple recipes with coconut flour instead of adding in ingredients like xanthan gum or arrowroot powder. I use coconut flour instead of almond flour since almond flour is far higher in fats, and coconut flour is less expensive and one bag lasts awhile. Most importantly is the taste – the baked goods I have prepared with coconut flour have always been delicious, whether it is for bread, muffins, or pancakes. It can lend a sweeter taste to recipes but isn't overpowering.
When non-Paleo people like a baked recipe of mine, it's usually a sign of a winner for me. These cupcakes are not too moist, or too dry. If you would like to cheat just a tiny little itty bit, add some sprinkles on top for added happiness.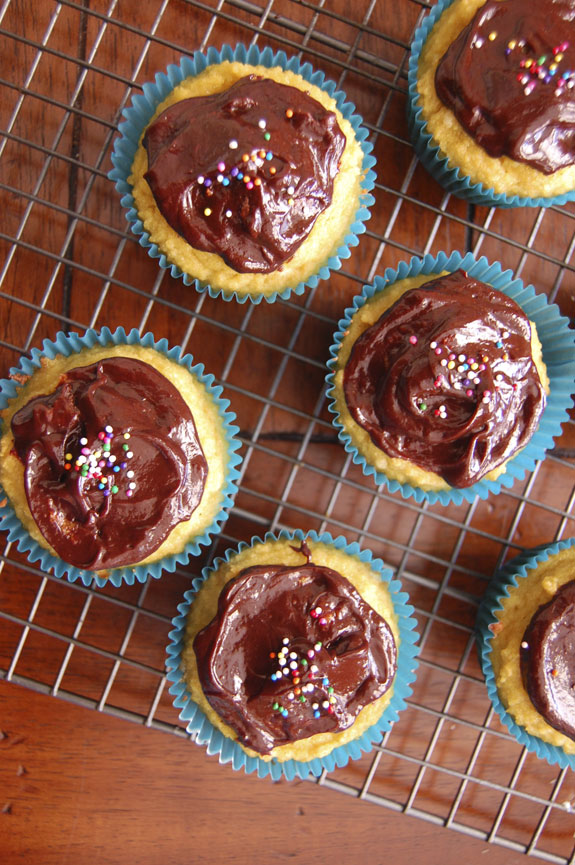 Paleo Coconut Cupcakes with Chocolate Frosting
2014-01-23 11:56:56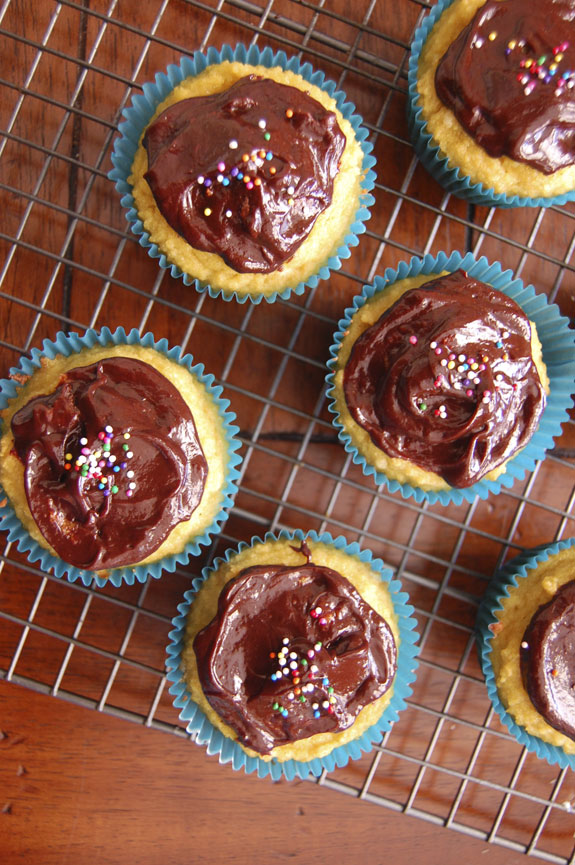 For the cupcakes
1/2 cup coconut flour
1/2 tsp baking powder
1/4 tsp salt
4 eggs
1/3 cup maple syrup
1/3 cup coconut oil, melted
2 tbsp almond milk
1 1/2 tsp vanilla extract
For the chocolate ganache
4 oz. dark chocolate
1/3 cup full-fat coconut milk, refrigerated
For the cupcakes
Preheat the oven to 350 degrees F. Line a muffin tin with 8 cups and spray the insides with coconut oil spray to prevent sticking.
Whisk together the coconut flour, baking powder, and salt in a large bowl. Add in the remaining ingredients and whisk until completely combined.
Pour the batter into the muffin cups, dividing equally. Bake for 17-20 minutes, until a toothpick inserted into the center comes out clean. Place the muffin tin on a cooling rack and allow to cool for 10 minutes. Remove the cupcakes from the tin and cool completely before adding ganache.
For the chocolate ganache
Melt the chocolate in the microwave, stirring regularly.
Scoop the cream off the top of a can of chilled coconut milk. Combine with the chocolate and blend well. Let cool to room temperature before frosting cupcakes.
Notes
Servings: 8
Difficulty: Medium
Paleo Grubs http://paleogrubs.com/
Want more Paleo recipes? Take a look at the Paleo Grubs Book. With 470+ easy-to-prepare Paleo recipes in 17 comprehensive categories it is the only Paleo book you will ever need.
+ Make sure to sign up for our free newsletter to get our latest healthy recipes delivered weekly (it's free).