Homemade Chicken No-Noodle Soup
4
If you have caught that flu bug that has been going around, or just feel under the weather today, you cannot go wrong with some simple, straightforward chicken soup. It is easy to make, and I highly recommend preparing some to freeze for when the time calls. Or for eating tomorrow. This homemade chicken no-noodle soup is guaranteed to make your day a little brighter.
Instead of noodles, vegetables add a lot of substance to this version of chicken soup. The recipe is extremely easy if you already have homemade chicken broth available. If so, you can skip straight to step 4 in the instructions. Otherwise I provide instructions for cooking a whole chicken and reserving the liquid for chicken broth.
Chicken soup is surprisingly easy to make, but requires a bit of time to properly infuse the broth with flavor. Starting with a good quality organic whole chicken, cut into four sections to better fit into the pot. Cook the chicken with vegetables and added seasonings in order to get tender chicken meat and a flavorful broth that will act as the base of the soup.
After the chicken is done cooking and the broth is strained, the actual chicken no-noodle soup can be prepared. This requires simmering carrots and celery for a short time in the broth. The shredded chicken meat is added into the saucepan to complete the dish. You could even add cauliflower or broccoli for extra bulk. Then the light, warm dish is ready to enjoy.
Since I know that I will inevitably feel like enjoying some comforting chicken soup and not feel like cooking, I sometimes prepare ahead by making the soup and then freezing it for later use. I portion the soup into Ziploc bags and place in the freezer. When I want to warm up on a cold day or just feel under the weather, this soup is ready and thawed in less than 30 minutes.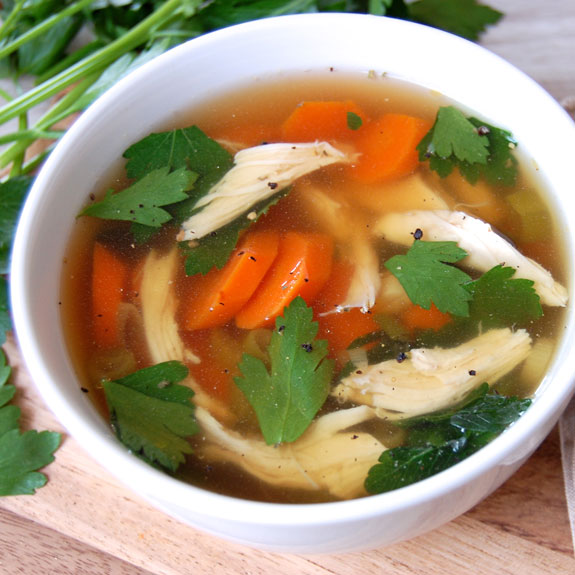 Homemade Chicken No-Noodle Soup
2014-03-31 09:40:16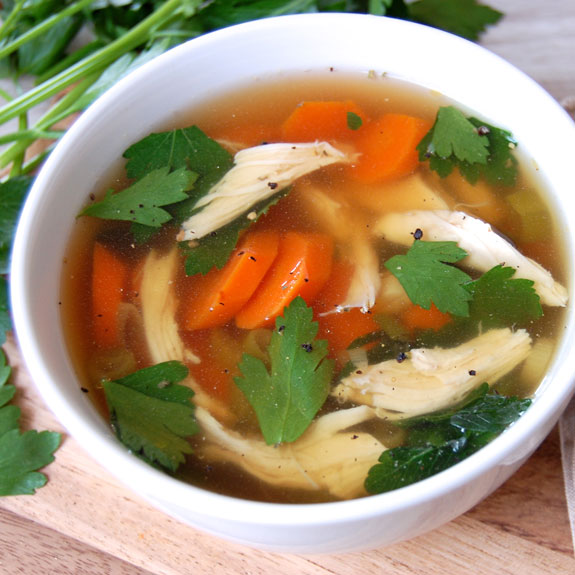 Ingredients
1 whole chicken
1/4 cup white vinegar
1 large yellow onion, peeled and chopped
2 large carrots, washed and chopped
2 celery stalks, chopped
1/2 tsp whole peppercorns
2 bay leaves
5 cloves garlic, peeled
2 tsp salt, divided
1/2 cup fresh parsley, chopped
2 spring onion bulbs
Instructions
Cut the chicken into 4 pieces, cutting first in half along one side of the spine and then cutting off the thighs. Place the pieces in a large pot and cover with cold water. Turn the heat to high.
Add one carrot, one celery stalk, the onion, peppercorns, bay leaves, and garlic to the pot, along with one teaspoon of salt. Once the water boils, turn the heat to simmer and cover. Cook for 90 minutes.
Remove the pieces of chicken to a cutting board and allow to cool enough to handle. Strain the liquid from the pot into a large bowl using a cheesecloth or fine mesh strainer.
Place the strained stock back into the pot and add the remaining celery, carrot, and green onion. Add the remaining teaspoon of salt and bring to a boil. Turn the heat down to simmer for 12-15 minutes until the carrots are tender.
While the strained broth is simmering, remove the chicken skin and shred the meat. Return the shredded meat to the pot. Remove the pot from heat and add parsley. Cover and let rest for 5 minutes before serving.
Notes
Servings: 4
Difficulty: Medium
Paleo Grubs http://paleogrubs.com/
Want more Paleo recipes? Take a look at the Paleo Grubs Book. With 470+ easy-to-prepare Paleo recipes in 17 comprehensive categories it is the only Paleo book you will ever need.
+ Make sure to sign up for our free newsletter to get our latest healthy recipes delivered weekly (it's free).