Balsamic Chicken with Roasted Tomatoes
9
A home-cooked meal for two can turn an everyday dinner into a special occasion. This balsamic chicken is deceptively easy to make, yet elegant enough for a date night. Deep golden caramelized onions and honey-roasted tomatoes add extra sweetness to the balsamic chicken.
During this time of year I feel like things can settle into a mundane routine, as winter continues on outdoors while we wish for spring. Work continues day in and day out, and the skies are mostly grey. New Years resolutions have either stuck with you and developed into habits, or they have swept by. I find that something as simple as an impromptu dinner, whether you invite a friend or have a date in mind, can add some energy into the usual humdrum. Good conversation and good food always have a way of lifting spirits.
Honey-roasted tomatoes have a way of boosting my spirits and tastebuds as well. The first time that someone mentioned adding honey to tomatoes, I was a little skeptical. But when this combination is roasted together in the oven it is like candy. Healthy candy. Tomatoes are basically tossed with olive oil and honey and then roasted in the oven for 20 minutes. They make the perfect compliment to the balsamic chicken in this recipe but I have enjoyed them simply on their own too.
The tomatoes are paired with caramelized onions and mushrooms to make this dish extra luscious. You can take as much time as you like in caramelizing the onions; just remember that they will cook for at least 15 more minutes together with the chicken. The chicken becomes tender and juicy from the balsamic marinade, and then everything is assembled together on the plate. Enjoy with a friend or special someone to transform your regular dinner into a delightful meal.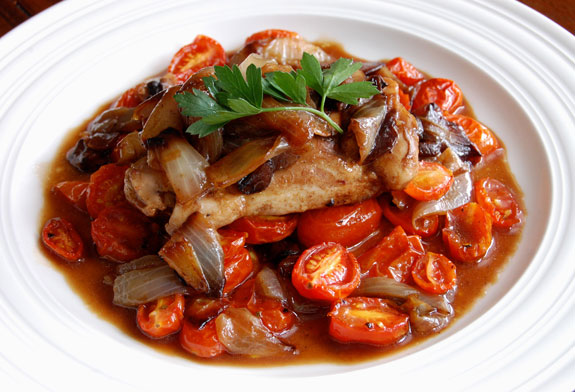 Balsamic Chicken with Roasted Tomatoes
2014-02-28 11:17:27
Ingredients
2 chicken thighs, bone-in
1 cup mushrooms, chopped
1/2 medium onion, chopped
1-2 tbsp extra virgin olive oil
3 tbsp balsamic vinegar
Salt and pepper, to taste
1 pint cherry tomatoes
1 tbsp honey
Fresh parsley, for garnish
Instructions
Preheat the oven to 400 degrees F. Place the tomatoes on a baking sheet and drizzle with olive oil and honey. Sprinkle with salt and pepper and toss to coat evenly. Bake for 15-20 minutes until soft.
While the tomatoes are roasting, heat one tablespoon of olive oil in a large pan over low heat. Add the onions and mushrooms and cook for 10-12 minutes to soften and caramelize, stirring regularly. Clear a space for the chicken.
Season the chicken with salt and pepper and then place it in the pan. Add the balsamic, reduce the heat to low, and cover. Simmer for 15 minutes or until the chicken is cooked through. Every 5 minutes or so, spoon the sauce in the pan over the chicken.
To assemble, divide the tomatoes between two plates. Place one chicken thigh on each and then spoon the onions, mushrooms, and pan drippings over the chicken. Garnish with parsley.
Notes
Servings: 2
Difficulty: Medium
Paleo Grubs http://paleogrubs.com/
Want more Paleo recipes? Take a look at the Paleo Grubs Book. With 470+ easy-to-prepare Paleo recipes in 17 comprehensive categories it is the only Paleo book you will ever need.
+ Make sure to sign up for our free newsletter to get our latest healthy recipes delivered weekly (it's free).