I can't lie: I get tired of eggs for breakfast. I know they are great sources of protein and a fabulous way to start my day, but sometimes I just feel a little unenthusiastic about them. So I always brighten up when I find a new, yummy, super simple egg recipe. If you're looking for a new way to serve eggs, too, I've got the solution right here: baked eggs in avocado.
This recipe would be great for a brunch with friends, although where I live avocados can get a bit pricey and it can be hard to find perfectly ripe ones sometimes, so I usually keep this recipe as something I make for myself during the weekdays.
Yup, even though it requires baking time, this is a pretty quick weekday worthy recipe for me. Here's how I do it: first thing when I get up, I turn the oven on. While it preheats, I do the prep of cutting the avocados, getting their pits out, scooping out a bit of flesh, and getting those eggs nestled safely inside. Then, as soon as the oven is ready, I pop those babies in to cook and set the timer for 15 minutes.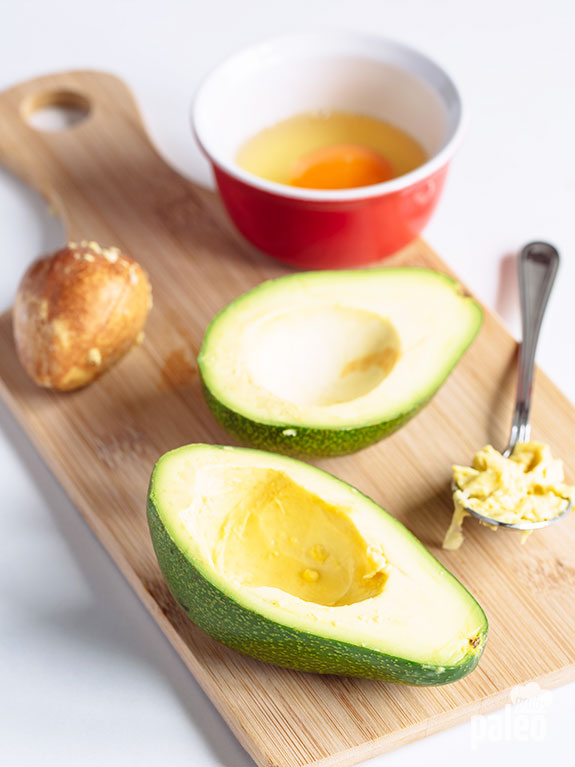 Then, I go start my getting ready routine. By the time I'm out of the shower, breakfast is ready!
Ever have trouble getting the seed out of the avocado? Here's a tip: get a sharp knife like the one you use to chop veggies and carefully but firmly make a chopping action so the knife lands right down the center of the seed. The knife should now be slightly stuck in the seed. Now gently wiggle the knife backwards away from the avocado and the seed should pop out with the knife. You can also work the knife along the sides of the seed beforehand to loosen it, if the avocado is a bit hard.
Notice in this recipe that it says to put the egg yolk, the yellow part, in the avocado before spooning in the rest of the whites. It's ok if you get a little bit of egg white in with the yolk, but do try to get that yolk in first. If you put the whole egg in at once, typically the yolk will be at the very top and when your egg bakes, the yolk will cook completely through.
Putting the yolk in first and spooning the whites over it causes the whites to set completely before the yolk hardens, so you can have a slightly runny egg. Of course, if you prefer a firmly cooked egg white, you can always bake it a few more minutes.
If I have a little extra time, I'll often cook up a few pieces of bacon, or if I'm lucky I'll have thought to make a few extra on the weekend. So I will crumble those up over the top of my avocado eggs. And I always have fresh homemade pico de gallo on hand so that always goes on top too.
My favorite is having both bacon and pico de gallo at the same time on top of these luscious, creamy eggs. The bacon adds a nice bit of salt and gives a new dimension to the texture of the dish, while the bright flavors of the pico de gallo balance wonderfully with the creamy, savory, eggs and avocado.
So next time you see some beautiful avocados at the grocery store, grab one or two and make yourself this healthy, filling, protein-packed Paleo breakfast and start your day off right.
Read this next: 54 Amazing Paleo Breakfasts to Start Your Morning Right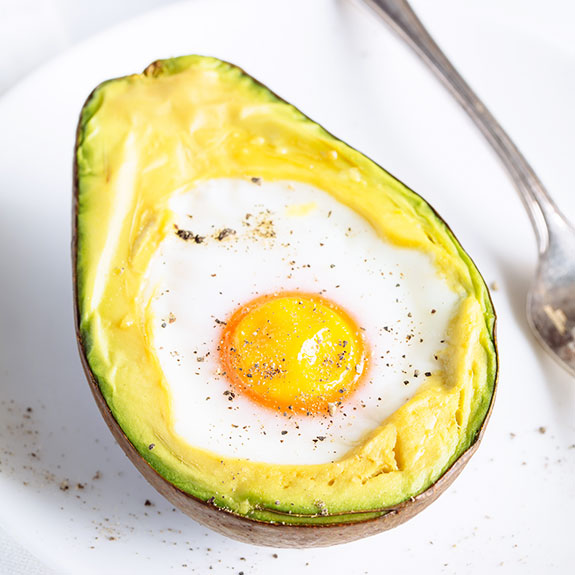 Baked Eggs in Avocado
2016-02-28 09:19:32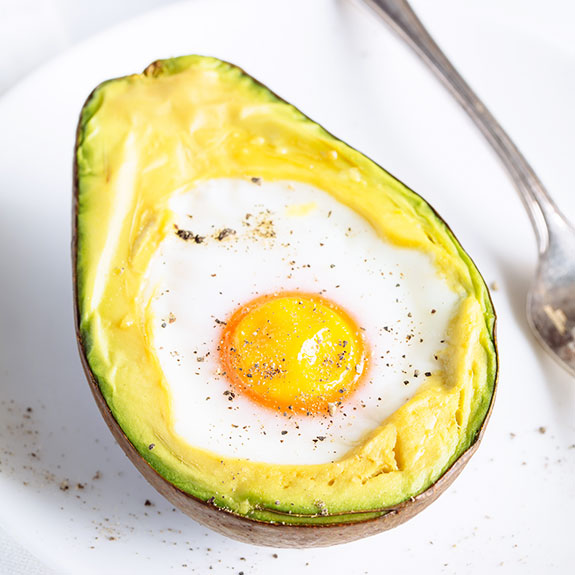 Serves 2
Ingredients
1 medium or large avocado
2 small eggs
salt, black pepper to taste
Instructions
Preheat oven to 425 F.
Slice avocado in half and remove pit. Scoop out about 1 tablespoon of the flesh from each avocado half.
Put avocado halves in small dish (make sure they fit tightly).
Crack one egg in a bowl. Try to keep egg yolk intact. Gently spoon egg yolk into avocado hole. Spoon egg white into the hole until full.
Repeat with remaining egg and avocado half.
Place in the oven and bake for 15 to 20 minutes or until your egg whites are set.
Notes
Serve with pico de gallo or pesto or crumbled, crispy bacon.
Paleo Grubs http://paleogrubs.com/
Want more Paleo recipes? Take a look at the Paleo Grubs Book. With 470+ easy-to-prepare Paleo recipes in 17 comprehensive categories it is the only Paleo book you will ever need.
+ Make sure to sign up for our free newsletter to get our latest healthy recipes delivered weekly (it's free).